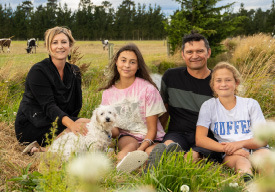 Lifestyle Collection: Work-life balance, mountain views – and new neighbour clincher for Emma and Tama
February 2021
Emma and Tama Taurua, along with daughters Ashlee (24), Maia (14) and Zoe (12), considered moving from Merivale in Christchurch onto a lifestyle property for several years.
However, as Emma explains, until last year the timing was never quite right.
"During the Covid lockdown we found the inner city claustrophobic and isolating. We thought about a future where this could easily happen again. We realised a good work-life balance is a priority and you can't take anything for granted any more: you need to live somewhere you love.
"Tama spotted the property online. Initially he was drawn to the duck pond and 10 hectares with a short commute to Christchurch.
"When we looked at it, the clincher was the surrounding stunning views of Mt Hutt and the Southern Alps: fresh air, sunshine and a vast skyline that we had missed so much when living in town. Walking down the sweeping driveway and taking in the quiet surroundings, we felt like we had found our dream home and location," she says.
Karen Hennessy of PGG Wrightson Real Estate, Darfield had listed the property, in Charing Cross, west of Christchurch.
"This is a well-presented irrigated block, featuring an expansive home with all day sun and four-car garaging, plus six large and two smaller holding paddocks, within an easy commute of Darfield, Rolleston and Christchurch," says Karen.
The Taurua's fell in love with it right away.
"Our initial visit allowed us to wander through the paddocks, surrounded by water races. Looking up towards the pine hedges, we saw the most amazing glimpses of the mountains. We were sold," says Emma.
She and Tama both work in Christchurch, though as Regional Manager for Torpedo 7, Tama travels regularly. Emma's job, in marketing for a hotel group, gives her the option of working regularly from home.
"Now we are out here, with the girls still at school in Christchurch, we enjoy time in town whether that's for work or recreation, though the difference is we have the right balance now. We equally love the feeling of leaving town and heading home.
"We use the 30 to 40 minutes driving to spend quality time chatting in the car, and before we know it we are home," she says.
There is one unexpected bonus of the move: they are now the new neighbours of their PGG Wrightson salesperson.
"During our walk around with her, we were fairly green when it came to what questions to ask. Karen was so helpful explaining all the various aspects of the lifestyle block.
"We asked what the neighbours were like and were delighted when Karen told us she would be one of our neighbours herself. We found her so easy to deal with. Karen as our new neighbour was an added attraction for the move," says Emma.
Rural & Lifestyle Sales Consultant
M 027 967 0186
karen.hennessy@pggwrightson.co.nz
Read the full edition of the Autumn Lifestyle Collection here.