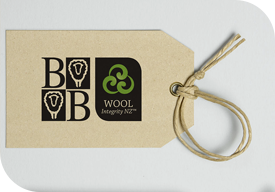 Brand provides quality and ethics assurance for wool
June 2018
PGG Wrightson Wool, along with partner Bloch & Behrens, has delivered a flagship brand to highlight the superior characteristics of New Zealand wool.
Providing full transparency within the supply chain, the Wool Integrity programme ensures wool is produced in accordance with the internationally recognised five freedoms of animal welfare:
Freedom from hunger and thirst
Freedom from pain, injury or disease
Freedom to express normal behaviour
Freedom from discomfort
Freedom from fear or distress
Wool in the programme can be directly sourced as greasy, scoured or combed wool. Spinner brand partners are also able to provide manufacturers with Wool Integrity branded yarn suitable for a wide range of products.
Wool integrity NZ provides assurance through the wool supply chain, and to customers, that the wool under its brand has been ethically grown, following a path of genuine integrity.
Membership of the programme is free to wool growers.
For more information, see www.woolintegrity.com