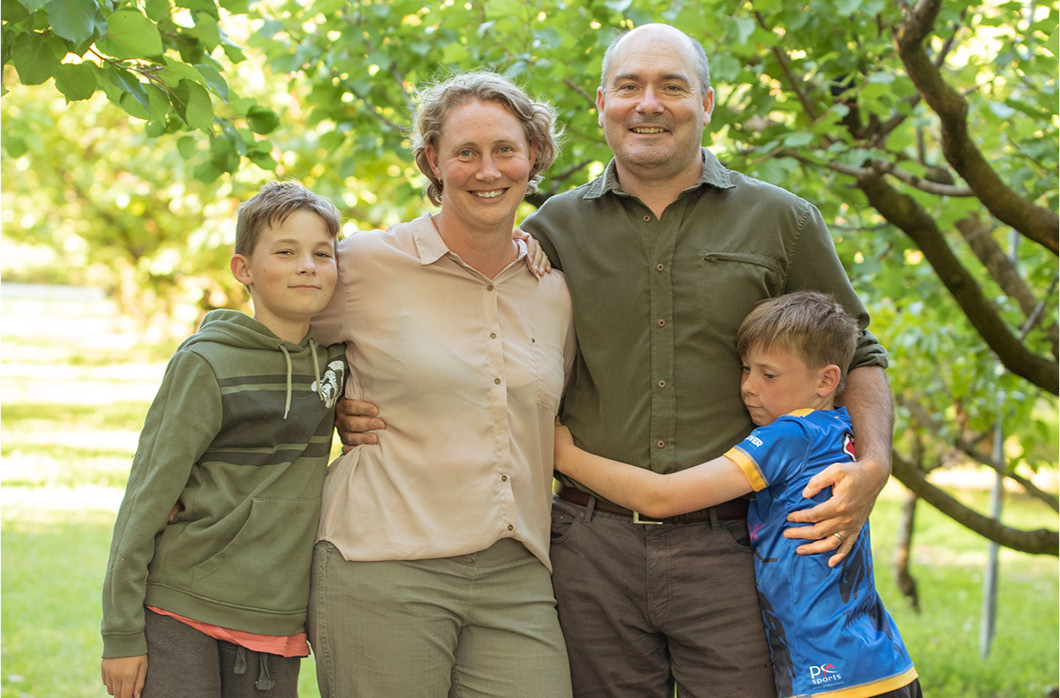 Lifestyle Collection: Erin & Bevin turn covid knock back into lifestyle opportunity
February 2021
A popular and historic Central Otago orchard and fruit stall sold prior to Christmas, taken on by a Mosgiel family who turned a Covid redundancy into an opportunity to change their lives.
Coal Creek Gardens, six kilometres north of Roxburgh, was the first stone fruit orchard in the region that now specialises in them, and possibly the first in New Zealand.
Presented to the market by Sally Taylor of PGG Wrightson Real Estate, Alexandra, one look was all it took to convince Erin and Bevin Davis that the three hectare property would be perfect for the couple and sons William and Jeremy. They were motivated to move after Bevin was made redundant from a corporate job during the lockdown, as Erin explains.
"After Sally showed us round, and we were back in the car, Bevin just said: 'Me see, me like,' and I said: 'Yeah, this is awesome!'
"Bevin had lost his job, and we took it as a chance to re-evaluate, especially as another job in Dunedin was not forthcoming. Life threw a spanner in the works. We decided this was what we really wanted.
"We have been looking for a holiday house for years, though that would not have been as good as this. Since the orchard came up, things have fallen into place better than we could have imagined," she says.
Taking over managing the orchard, Erin has cut back on her specialised occupational therapy practice, particularly during the summer. Her new role extends what she was doing in Mosgiel, growing and pickling walnuts and veges for sale at the local market. Bevin found a new job in Cromwell, though spends as much time as possible working on the orchard.
"He's always on the ride-on, and when the apricots were in full swing he was up at 6.30 every morning picking for an hour before going to work. He loves it because it doesn't feel like work.
"William and Jeremy love the large backyard. They play cricket now with a cricket ball, which was impossible in Mosgiel. They also borrow my orchard walkie talkies, and have fun with those, not realising that back in the shop, I'm hearing every word on the monitor," she says.
When previous owners Michael and Glenys Roche moved north from Invercargill in 1996, the orchard was derelict, largely untended for several years, as Michael explains.
"Things were not flash. There was no shop, the orchard was overgrown, and the house had been rented out for 10 years," he said.
Michael took work at another local orchard. Five years later the couple were earning an income from Coal Creek Gardens, which provided their living within four more years.
"Growing food gives a certain satisfaction. Any problem is secondary to seeing someone bite into something you've grown, such as a nice juicy peach. That expression when they taste it, eyes lighting up, means more than money. Income is secondary. With that belief, you do better than scrapping for every cent.
"More people on a few hectares should try it. We saw the opportunity to combine income with lifestyle, and went for it. You learn as you go, and there are way more positives than negatives," says Michael.
Now Erin and Bevin are taking their first steps to do the same.
Read the full edition of the Autumn Lifestyle Collection here