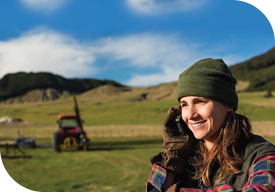 Insuring your lifestyle block
March 2019
Jessica Hunt from Aon insurance brokers provides an overview on the uniqueness of lifestyle block insurance and explains how Aon's lifestyle product caters to the specific needs of lifestyle property owners.
As a small block owner one of your first considerations when purchasing a property will be insurance. Newcomers to farm life might be unsure of the extent of cover required as this property type sits outside the scope of traditional house and farm cover. To help understand the uniqueness of lifestyle living, below is a list of some out-of-the-ordinary items found on a lifestyle block that will require insurance cover:
• Farm fences
• Pumps/motors
• Animal feed
• Culverts/bridges
• Electrical fusion
• Machinery breakdown
• Horse arenas (if specified)
• Wells (if specified)
Standard house and contents policies don't provide cover for the above - or for any part of the home used for farming purposes. This is why AON have designed an insurance package specifically for lifestyle properties.
Here is a snapshot of the cover available:
FARM ASSETS
Aon's Farm assets policy covers your farm buildings, tools, machinery, animal feed, culverts, fences, livestock and pumps to name a few
HOUSE AND CONTENTS
House and contents insurance can be tailored to your individual requirements and, if applicable, can include a tennis court and swimming pool.
MOTOR VEHICLES
Multiple vehicle types are often used on a lifestyle block and therefore require insurance. Vehicles include tractors, horse floats and trailers, private cars, SUV's, utes, quad bikes and motor cross bikes.
RURAL LIABILITY
Liability cover in a contents policy doesn't extend to include the farming operation. Aon's rural liability cover protects you against accidental loss to third party property i.e a fire starting in a shed and spreading to neighbouring property, or stock escaping onto the road causing an accident or damaging third party property.
STATUTORY LIABILITY
In addition this can provide protection against fines or penalties you become legally liable for arising from breaches of New Zealand Acts of Parliament such as the Resource Management Act.
AonAgri is a division of Aon New Zealand specialising in creating insurance solutions for farming and agricultural businesses. Our rural brokers have a wealth of expertise and access to the best insurance products in the market. With over 950 staff and offices spanning New Zealand, Aon is the only broker with the capability to provide local service no matter where you live.
Talk to your local broker today on 0800 800 398, quoting the code PGWAon.