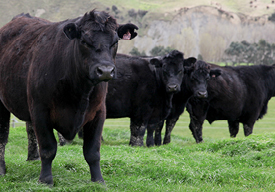 Property Express - Outstanding Oakbourne
October 2019
Testing the market early achieves strong result in Central Hawke's Bay.
When you have a farm to sell, with no need to rush into it, picking the right time to take it to the market can be an art form. For Mike and Louanne Gordon, going early achieved an ideal result.
With younger members of the family farming nearby, they decided it was time to rationalise their farming operation, which included Oakbourne, a 410 hectare farm mainly finishing bullocks, 37 kilometres east of Waipukurau and 13 kilometres north of Porangahau.
"We had about 2000 hectares all up, with a son farming one block and a son-in-law farming another. We are reaching the stage where there is no need to push yourself too hard and we had one eye on what the property market was doing," says Mike.
They put a call in to Doug Smith, of PGG Wrightson Real Estate, Hastings, who generally works in tandem with colleague Paul Harper.
"We started talking to Doug in the autumn. Although the market was encouraging, I didn't think that was the right time to rush out and advertise a farm. Normally, with the way farms run stock, June settlement makes sense, so at that stage we decided it was too late to set up and push through a transaction before the end of June, and therefore not an ideal time to try to sell.
"However, Doug and I kept talking. As the winter progressed it became clear that quite a few farms would be offered for sale in the spring. We decided to put it out there that we have a farm for sale and see what happens. Not to go full on advertising it, just talk to anyone who might be interested and see if someone comes up with an acceptable
price. We wanted to see if Doug and Paul knew anyone who was after a farm like that, and if we reached the end of August without receiving an offer, then we would go all out and advertise it in the normal way to the spring market," he says.
When Doug and Paul started the softly softly approach to finding a new owner for Oakbourne, with product prices for red meat so strong, and all indications that they will continue at or near record levels, there was plenty of interest, as Doug explains.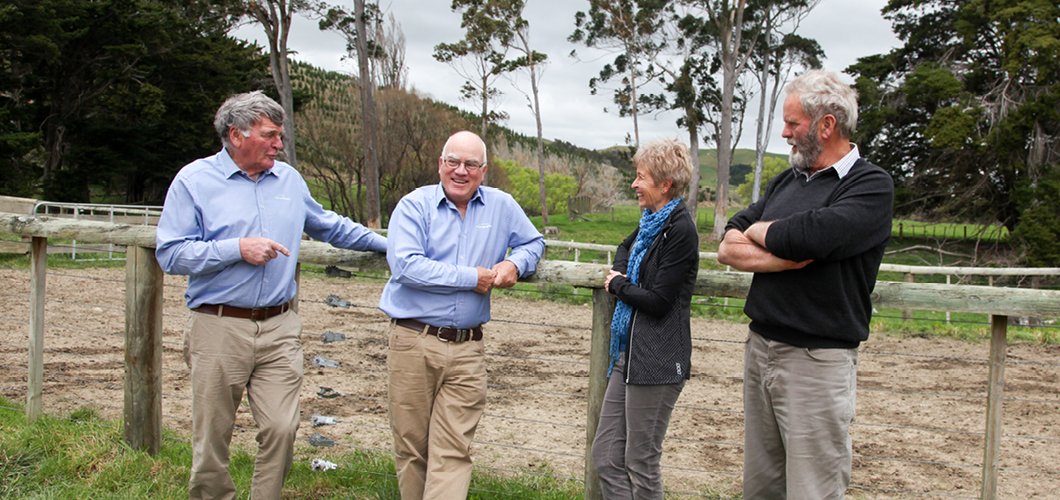 "Oakbourne is an outstanding finishing farm. We had a list of several potential purchasers, mostly people within the farming area who we knew might be looking to acquire additional land. Once we had the information about the farm ready, we sent it out to them. Interest was encouraging and we showed up to a dozen parties around the farm.
"As it is, Oakbourne includes 138 hectares of flat land and those paddocks provide an unusually high percentage of the whole property, giving it great balance and plenty of options. However, the flats are one side of the main road, separated from the medium hill country on the other side.
"We showed various neighbours around the farm with several investigating the possibility of dividing it up along the main road to add to existing holdings. In the end, however, the most motivated party was a successful farming family based elsewhere in the district who we had previously dealt with, with two adult sons, seeking to extend their holdings. They made an offer to buy it as a single unit in a range between $11,000 and $13,000 per hectare, firm on current values for Central Hawke's Bay sheep and beef property, which the Gordons were pleased to accept," he says.
Mike says their decision to go to the market in the winter, rather than hold off until spring, proved to be the right one.
"It is hard to pick the month where farm values will be at the top of the spike. Of course, nobody wants to sell at the bottom of the spike. When sentiment is good though, as it is at present, you want to move while the mood is so positive. Anyone can be clever in hindsight," he says.
Doug Smith says there are some good spring listings of sheep and beef farms in several districts, including Central Hawke's Bay, with every indication that these will be met by strong demand.
"Historically sheep and beef farming progresses in cycles. If so, it appears we are currently at or approaching a high point. Those who are therefore considering cashing in on the red meat sector's present strong position, and exiting at the top, are probably making a wise decision. That was certainly the case for the Gordons, and the ease with
which their excellent property found a willing buyer bodes well for the spring and beyond," he says.
To read more of the Property Express magazine by click here.