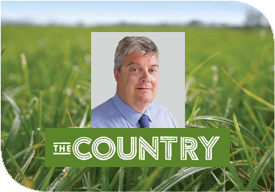 Peter Newbold - Live on the Country 21 November 2019
November 2019
PGG Wrightson's GM for Real Estate Peter Newbold joins The Country's Jamie Mackay to talk rural property this month.
Mackay gets into the discussion of money and where it is coming from, and questioned if there is a Mexican standoff between the banks and the farmers. It was a challenging space as sales were quiet, returns for farmers were good, and the banks have changed their rules said Newbold.
"Fair to say some of the vendors will need to look at it from a yield basis rather than a capital gains story" said Newbold.
Mackay and Newbold agreed that if farming headed back to a yield story it would benefit everyone. Newbold added that there always needed to be something for the next person.
Questions were raised around the price of dairy properties, as there was zero activity and could this be due to no one knowing where the market sits. Newbold elaborated this could be location, property size or tier related issues.
Mackay asked with more marginal dairy properties, are they in danger of being converted to beef and sheep farms. Newbold added that land use stories are moving forward particularly in provincial areas, on the condition that sheep and beef values are maintained.
Forestry is gaining interest, particularly on the East Coast of the North Island, as there is good money being invested into the land.
Sales of horticulture land have been going strong. Mackay quotes from The Real Estate Institute of New Zealand (REINZ) rural spokesman Brian Peacock who stated "while dairy and finishing properties were down considerably in terms of the number of sales, the stand out category is arable land.