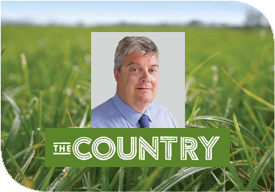 Rural real estate report: The potential of provincial properties
July 2020
PGG Wrightson's General Manager for Rural Real Estate Peter Newbold joins The Country's Jamie Mackay to take a look at the rural property market this month.
Mackay asked Newbold to crunch the numbers and report on how much the rural market was behind - in terms of volume - in comparison to 2015/16.
In 2015 the rural market was just short of $4 billion in sales, compared to 2020 which was just over $2 billion, "so you can see there's been a real decline" Newbold said.
The rural market continued to be overshadowed by the lifestyle market.
Mackay and Newbold discussed the potential change in attitude towards the rural market; post Covid-19, as those in metropolitan areas looked to move to pastoral properties.
There had been a lot of interest in provincial New Zealand where many towns were supported by the rural industry, Newbold said.
In addition, the costs of these properties were better value compared to the metro markets, he added.
Mackay asked if some rural properties were starting to stack up on a yield basis and wanted to know if perhaps a few of the more marginal properties were good buying.
Newbold reckoned they were, and the past few weeks had seen signs that a number of listings were on the up and with comparable prices.