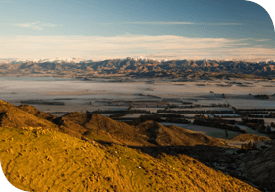 Winter Regional Update
June 2019
Northland
Northland's autumn rural property market was more subdued than is normally expected at this time of year, with few exceptional sales. Banks are adhering more strictly to their lending criteria for rural business, meaning motivated purchasers must explore other options for finance. Consequently, the sales and negotiation process for many transactions has been prolonged. Vendor pricing expectations are generally realistic, which means when purchasers are able to secure finance, sales will proceed. As in other regions, activity in the dairy property market has been subdued, and is likely to remain so through the winter. Rural property listings are short in the Far North, Whangarei and Rodney, though in good supply elsewhere in the region. Some kiwifruit growers may look north during the next few months to activate licences to grow the G3 variety, which were granted in the autumn by Zespri.
Waikato
With dairy dominant in Waikato, the region's rural property market through autumn reflected that sector's downbeat state. Transactions by volume reached a low ebb not previously seen since the 2011 global financial crisis, and sales are insufficient to determine how far values have dropped. Among these transactions, one in central Waikato signalled for completion before the end of the autumn tells its own tale: comprising several titles totalling 250 hectares, the likely purchasers of this Te Awamutu dairy property, which has previously produced more than 500,000 kilograms of milk solids per annum, intend to milk goats on the farm. Waikato's rural property market looks unlikely to deviate from the current trends through winter. Spring, however, should see a traditional lift in activity, possibly boosted by banks, though vendor finance may also play an increasing role in facilitating sales as the season progresses.
Bay of Plenty, Central Plateau and South Waikato
Kiwifruit fortunes play a significant role in the Bay of Plenty's rural property market, and with the sector confirming record profits after an excellent season, prices for orchards are buoyant, albeit few growers are inclined to sell. As in much of the rest of the country, the region's remaining market was flat through autumn, with sales scarce and dairy values softening by up to 15 per cent. One significant sale was a 159 hectare drystock farm between Rotorua and Taupo: historically in sheep, it sold at auction in late April for $2.65 million to a local intending to raise beef. As elsewhere, bankers are encouraging farmers to improve their equity positions, which invariably means sacrificing new property acquisitions. Several fresh listings should come onto the spring market, though these will only sell if buyer and seller price expectations align.
Lower North Island
Activity in the Lower North Island's autumn dairy property market was subdued. Farmers who might sell are reluctant to accept a softening in values. Although significant winter market activity is unlikely, that should change in the spring as vendors ought to become more willing to adjust their pricing expectations. For sheep and beef, demand for quality lower North Island property remains unmet as potential sellers prefer to make the most of the excellent returns on offer. Low interest rates are failing to inspire anyone who might otherwise be ready to exit farm ownership. Renewed interest in carbon trading has increased enquiry for potential forestry land. Several traditional Tararua, Wairarapa and South Wairarapa hill country farms have changed hands for conversion to forestry. Purchasers are paying more for these properties than sheep and beef farmers would, although that premium is difficult to gauge.
Hawke's Bay
Autumn's rural property market held steady in Hawke's Bay, with good climatic conditions and grass growth encouraging new sheep and beef listings through until the end of the season. While interest rates are low, and returns from pastoral farming generally positive, property values remain firm. Renewed interest in carbon trading and associated government initiatives have increased enquiry for land suited to forestry, which in turn is underpinning the value of some of the traditional grazing farms that are changing hands. Demand for finishing and cropping land is also strong. Although, as traditionally occurs, the market is likely to drop away as the winter progresses, indications are that several appealing Hawke's Bay properties should be offered for spring sale, including some of the region's most keenly sought after, which the present predominantly positive market is likely to welcome.
Tasman
As in other regions, Tasman's autumn rural property transactions were typically neighbours selling to neighbours. Greater diversity of land use gives Nelson and Marlborough farmers the strength to withstand the uncertainty prevailing in some other regions. A shortage of listings means plenty of competition for farms that are genuinely for sale, while those that have come to the market are well received. Farmers are assessing the potential returns from the government's tree planting and carbon credit programmes, boosting the already positive story around growing timber, which is underpinning some pastoral sales in the region. Change of land use from dairying or sheep and beef to horticulture is also adding premiums to farm values for other sales. High beef, deer and lamb returns and continued optimistic dairy projections suggest confidence should continue into the spring, with a busy rural property market.
Canterbury
Strong returns and confidence in the red meat sector meant Canterbury's autumn market activity focused on sheep and beef. Any listing with scale, above 300 hectares or carrying more than 5,000 stock units, was keenly sought after. One such farm, Pass Stream, in the Amuri district, sold at auction in early May for $4.3 million, while Mt Sylvia, an intensively developed 291 hectare Horsley Downs, Hawarden farm with irrigation potential, should draw interest leading into winter. A 300 hectare Waimakariri district pivot irrigated support block and finishing farm should likewise attract positive attention. Meanwhile, even though the milk payout is at encouraging levels and forecast to remain there, interest in Canterbury's dairy property market is limited, mainly due to the levels of equity required to purchase, also to prevailing concerns about environmental issues, which are persuading financiers and investors to pause.
West Coast
On the West Coast the rural property market has been static for a prolonged period. It remained so during the autumn. Few significant transactions have occurred for several months. Plenty of farms are available for sale, generally at realistic prices. However, confidence is patchy, demand low and any potential buyers can afford to be selective. While this is unlikely to change in the coming months, the Board of local co-operative Westland Milk Products is proposing its sale to a subsidiary of Chinese dairy company Inner Mongolia Yili Industrial Group, with a vote on the offer scheduled for the region's dairy farmers in early July. If this proceeds, once the dairy sector adjusts to the new ownership, it should improve prospects for West Coast farmers, which in turn will re-initiate more significant rural property market activity.
Mid and South Canterbury
After the government abandoned its capital gains tax proposal in April, Mid and South Canterbury rural property market activity increased noticeably. Sales of A grade dairy properties during May indicate a drop of eight to ten per cent in value compared to recent years. Where vendors adjust their expectations, more sales are likely. Several dairy properties are set to list for spring sale as financiers monitor their exposure to agriculture and caution their borrowers' around equity levels. One keenly monitored autumn listing, Forest Downs, a 319 hectare Cattle Valley beef finishing property between Geraldine and Fairlie, was offered for sale by auction in early March. Although no bids were received at the auction, negotiations proceeded with several interested parties, with a sale eventuating to a farming family from the wider district, as has been typical of recent sales.
Otago
As in other regions, red meat returns are motivating Otago purchasers to expand their current land holdings. Farms exceeding 5,000 stock units, however, are not being readily offered, meaning demand for sheep and beef property exceeds supply in East, West and Central Otago. However, in South Otago, where a dry autumn has reduced enthusiasm, market activity is less evident. Where farms are offered for sale, neighbours are generally prevailing to buy. Dairy sector activity meanwhile is subdued. Financiers observing stricter lending criteria means farmers lack the capital required to purchase. Indicating that, despite few sales the appetite for dairy property remains. A 105 hectare Momona farm was offered for lease in May, generating strong demand and multiple offers. Although a traditional quiet winter market is likely, several Otago sheep and beef farms, and dairy properties, should list for spring sale.
Southland
Although interest in smaller properties is steady, buyers are struggling to secure the equity needed to purchase larger Southland farms. For the nine months to the end of April, the region's dairy farms sold at around half the volume for the corresponding period 12 months earlier. Average values rose slightly, though the higher quality of properties sold accounts for that, and overall a dairy property price reduction, consistent with other regions, appears to have occurred. While few new listings were offered through the autumn, more properties are likely to come to the spring market, particularly from vendors willing to accept the revised values. Meanwhile, for Southland dry stock farms, the value and volume of transactions was almost constant from 2018 to 2019. Plenty of quality sheep and beef finishing properties are for sale in the south of the region.