Rural Property Pulse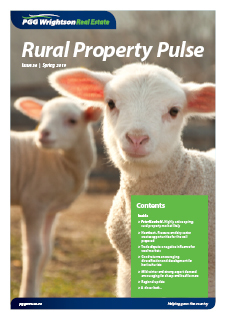 Produced quarterly for nationwide distribution, this highly read publication contains relevant and up-to-date information on rural real estate. Sourced from our network of rural sales professionals, it provides a comprehensive review of the current state of the market.

This edition follows the current trends in rural sectors such as horticulture, wool and livestock plus a breakdown of how the real estate rural sector is trending by region and land category.
◰ View the Spring 2019 e-magazine
◰ Read our Spring headline article

Download the Spring 2019 PDF
✉
☎ Contact one of our offices today for a physical copy
Rural Property Pulse - Spring 2019 Issue 36
---
Property Pulse
Extra
NEW!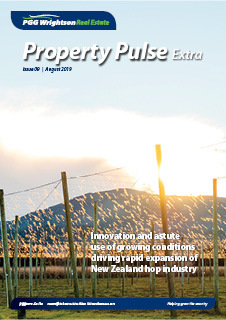 The Property Pulse Extra offers a monthly, fresh perspective, of what is happening in the rural real estate market. The publication complements our existing seasonal Rural Property Pulse which provides an in-depth look at what factors are influencing rural real estate.
✉ Subscribe to our publications via email
---
Find Your Nearest Office
Northland Sales Manager: John Duder | 027 470 2523
Bay of Plenty/Central Plateau Sales Manager: Mike McCullough | 027 479 4910
Waikato/King Country Sales Manager: Sloan Morpeth | 027 489 4667
East Coast Sales Manager: Tom O'Sullivan | 027 484 4340
Lower North Island Sales Manager: Wayne Brooks | 027 431 6306
Tasman Sales Manager: Joe Blakiston | 027 434 4069
Canterbury/West Coast Sales Manager: Athol Earl | 027 437 6298
Mid/South Canterbury & North Otago Sales Manager: Calvin Leen | 027 453 0950
Otago/Central Otago Sales Manager: Craig Bates | 027 489 4361
Southland Sales Manager: David Henderson | 027 433 7623