Property Pulse
Extra
NEW!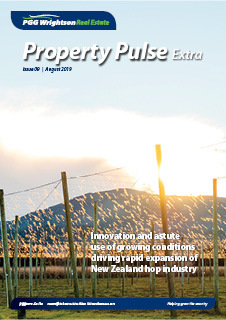 The August edition of PGG Wrightson Real Estate's Property Pulse Extra offers an interesting insight into the hops industry. Based in the Nelson region, production volume is on the increase, thanks to international demand for New Zealand's unique varieties.

Download the Issue PDF
✉ Subscribe to our publications via email
Read Property Pulse
Extra
NEW!
Issue 9 | August 2019
Issue 8 | July 2019

North Island districts attracting new breed of lifestyle owners

Issue 7 | May 2019

Carbon credit system offers diversity for owners of marginal land

Issue 6 | April 2019

Views, climate and pace of life add impetus to Central Otago lifestyle property market
Issue 5 | February 2019

Cromwell's new lifestyle village proving a great asset for Central Otago

Issue 4 | November 2018

Conservation focus enables
high country win-win

Issue 3 | October 2018

Last remaining Awatere sheep and beef property set to sell for grapes
Issue 2 | September 2018

Encouraging signs for sprint rural property market, sheep and beef sector

Issue 1 | August 2018

Dairy property market challenged


Find Your Nearest Office
Northland Sales Manager: John Duder | 027 470 2523
Bay of Plenty/Central Plateau Sales Manager: Mike McCullough | 027 479 4910
Waikato/King Country Sales Manager: Sloan Morpeth | 027 489 4667
East Coast Sales Manager: Tom O'Sullivan | 027 484 4340
Lower North Island Sales Manager: Wayne Brooks | 027 431 6306
Tasman Sales Manager: Joe Blakiston | 027 434 4069
Canterbury/West Coast Sales Manager: Athol Earl | 027 437 6298
Mid/South Canterbury & North Otago Sales Manager: Calvin Leen | 027 453 0950
Otago/Central Otago Sales Manager: Craig Bates | 027 489 4361
Southland Sales Manager: David Henderson | 027 433 7623