PGG Wrightson Real Estate is committed to keeping our clients, and the wider agricultural sector of farm owners, professionals and investors in New Zealand farmland, fully informed on market developments.
Subscribe here to receive our regular property & market updates direct to your inbox.
---
Property Express

Highlighting quality properties listed for sale throughout New Zealand, this exclusive property magazine is published every spring and autumn.

> Autumn 2019 Edition | Out Now




Our newest publication, showcasing spring rural and lifestyle property listings in the South Island.

Lifestyle Collection NEW

If you're looking to bring rural style into your life, then you may find a stunning property here just a click away with pages of great lifestyle and residential properties across the country and interesting articles on rural lifestyle living.
---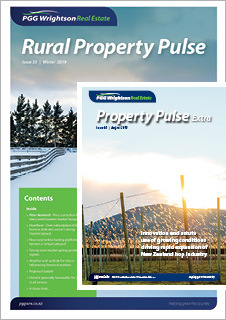 Rural Property Pulse NEW
Sourced from our network of rural sales professionals, it provides a comprehensive review of the current state of the market. Produced quarterly for nationwide distribution, this highly read publication contains independent, relevant and up-to-date information on rural real estate. Read More >

The Property Pulse Extra offers a monthly, fresh perspective, of what is happening in the rural real estate market. The publication complements our existing seasonal Rural Property Pulse which provides an in-depth look at what factors are influencing rural real estate. Read More >