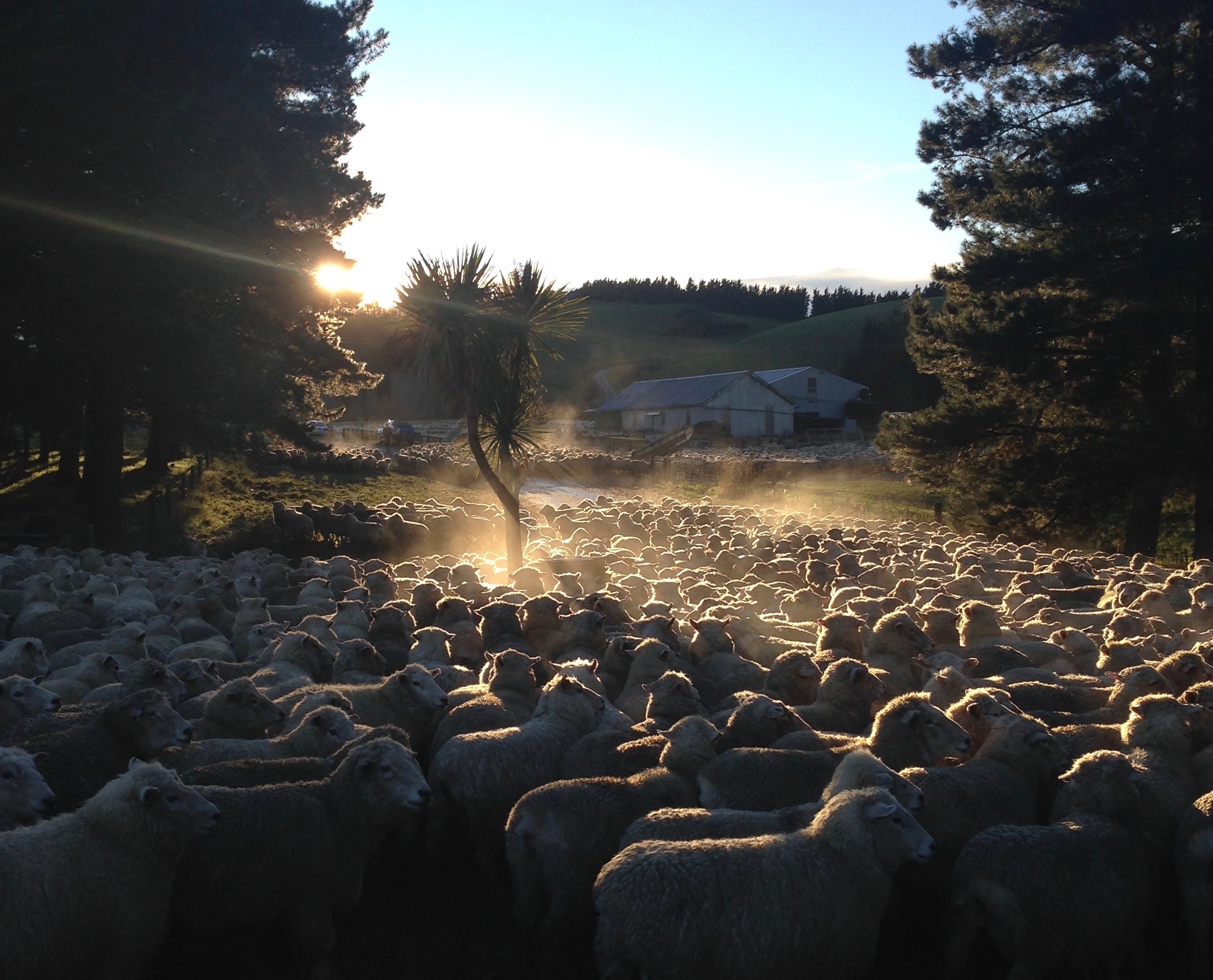 102 Years of Manahune
April 2019
Partnerships - the key to family's 102 year tenure at Manahune.
In 1915 1,021 eager Cantabrians applied for the 25 lots available when the renowned North Canterbury Glenmark Estate was offered in a public ballot. At 8.30pm on 18 June that year, 400 were at the King's Theatre, Christchurch to watch the ballot. When section three came up, 772 acres of rolling hill country, Alice Louise Thomson's application was drawn.
Alice was a widow from London, living in Timaru with her two sons Walter Richard and Albert. They had emigrated from England after Alice's husband Walter Robert Thomson, a printer, had been advised to take a sea voyage to improve his lungs, which were infected with tuberculosis. That advice proved ineffective and in 1907, three years after the young family arrived in New Zealand, Walter Richard succumbed, leaving his widow to fend for herself and raise the two little boys.
Winning the ballot a few years later turned the family's fortunes around. Walter and Albert, then aged 20 and 18, travelled by train to Waipara, then cycled cross country to the new farm. Pitching a tent by the creek, the
young men offered their labouring services to the neighbours until they had saved enough to fence their own land. Buying 400 ewes, which they did with a loan from Dalgetys, one of PGG Wrightson's forerunners, was a condition of taking on the balloted land. They called their new farm Manahune, after the Albury, South Canterbury property they had previously worked on, which in turn took the name from a mythological Polynesian tribe.
Fast forward to 2018 and Alice's greatgrandson Stu Thomson and his wife Sue have had tenure of Manahune for the previous 24 years. Having brought the family's century on the property up in 2015, Stu and Sue took the difficult decision to make a big change a couple of years later, as Stu explains.
"We have shifted our lives to Auckland. With three daughters all at university up here, studying for careers that suggest returning to the farm is unlikely, it was time for us to decide what to do. We thought if we were going to make a change, we should do it earlier rather than later and make an adventure of it," he said.
When Stu and Sue took over Manahune, Sue was a fresh arrival from the United States, having grown up in suburban Connecticut, New England, meeting Stu when he was on his OE.
"I knew nothing about farming, so to say I had a bit to learn is an understatement. I tried hard to adapt and we were happy farming in North Canterbury. I didn't get to drive the tractors, though I did learn how to handle the
stock," Sue says.
Farming in partnership has been a strong theme through the generations at Manahune. First Walter and Albert, who broke in and developed the land from scrub and swamp, using two six-horse teams, planting fruit trees and shelter belts, bridging the creek and increasing stock numbers from the original 400 to 800 ewes.
Stu says in those days Manahune was self-sufficient. "They had a large orchard and farm meat, so avoided suffering some of the hardship of the depression and war years. Twenty hand-milked cows provided milk and butter, which was sold, as were eggs," he says.
Albert married Lila Fendall. Trained as a midwife, she was the daughter of the local vicar whose family name remains on one of Christchurch's best known suburbs. For the first eight months of their married life they lived in a tent, until a new house was built in 1926. Albert and Lila had five children. Dorothy Cookson was governess to their growing family before she married Walter. They had four children, and a school operated briefly at Manahune for the
Thomson youngsters, plus those of a few other local families.
"Tragically, Walter was killed in 1944 when, driving his team of draft horses. He lost his balance and hit his head on the plough. Three years later Albert and Lila took a substantial loan to buy out the widowed Dorothy, becoming sole owners of Manahune. While that was a big commitment at the time, the wool boom that began in the early 1950s helped their fortunes considerably," says Stu.
Lila was the farm's strongest personality during those years. Albert died in 1978, while Lila, by this stage known to all as Grannie Thomson, lived at Manahune surrounded by her children and grandchildren until 1995, when she was 98. After leaving the farm, Lila's final years were spent in the care of her Helping grow the country 61 daughter Alice, her long life, spanning three centuries, coming to an end at the age of 106 years and six months.
"Everyone associated Lila with the family and she was the mainstay of the farm, though her name was never on any ownership title which was a reflection of that era," says Stu.
In 1961, two of Albert and Lila's sons, Bert and John, and their wives Claire and Valerie, formed a partnership, taking over Manahune's operation, focusing on lamb and wool production and replacing the horses with an International TD6 and a David Brown tractor.
"John, who was my father, and Bert farmed in partnership for 30 years, focusing on eradicating Nasella tussock, bringing virgin land into production, planting additional shelter and building dams for water and storage. They leased and also purchased neighbouring properties, as well as employing several others on the farm.
"In 1969, Bert and John's hard work and long hours won them the NZ Royal Agriculture AC Cameron Memorial Award, the first partnership to achieve that recognition.
"Stock capacity was increased with the introduction of the Hurunui County Water Scheme in 1970 which enabled the family to diversify into deer," says Stu.
In 1991, with their respective sons Philip and Stu ready to take on more farm responsibility, Bert and John dissolved the partnership and sub-divided the larger holdings they had accumulated, handing Bert and Philip their more recent acquisitions and leaving John and Valerie as sole owners of Manahune.
When Stu and Sue took over, the farm ran mainly Corriedales. They changed to crossbreds and heavier lambs with higher fat levels to take advantage of the warm country and earlier finishing.
"What we developed was all about prime lamb production. In late November we had our annual on-farm lamb sale. Our farming year was focused on having our lambs in top condition for the sale. Glenmark tends to become very dry in late spring, so lambing early made sense. In our time we saw wool go from being a significant source of income
to a break-even exercise, at best. Our breed choices reflected this," says Sue.
Manahune typically had the most lambs and the best prices at Glenmark's annual sale, as Stu explains.
"A neighbour suggested a change from the normal practice of price-taking at the works. That was successful in both good and bad climate and pricing seasons.
"In a good-price, grass-market year we made great returns, and in a tough year with little feed, it was a fantastic way to unload the stock and clear the decks early, then sit tight and wait to start again," he says.
After they made the decision to sell, they brought in Peter Crean and Mark Clyne of PGG Wrightson Real Estate, Christchurch to market Manahune, which by then was a 249 hectare breeding and finishing unit carrying some 3,500 crossbred ewes, producing approximately 5,500 lambs per annum. Peter Crean says, with the red meat sector in excellent shape, there was plenty of interest.
"Manahune has long enjoyed an enviable reputation as a top livestock property. A good balance of contour, from flat to rolling, to developed downs, with some medium hill, gives it many farming advantages which the Thomsons have used with great skill.
"With sheep and beef returns at a high point, and looking likely to remain so, recent local sales illustrate that willing buyers will come forward for properties that offer scale and productivity. This was the case with Manahune and we were delighted to negotiate a sale to a young local couple highly motivated to take over the farm," he said.
Although it is the end of an era for the Thomson family, Stu has left with a sense of satisfaction.
"Every farmer I know is dedicated to looking after their land. I hope that Sue and I have left Manahune better than when we took over, as I know my parents and their generation did," he says.