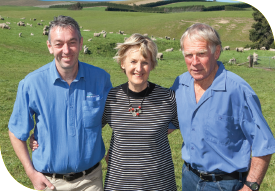 Marfells moving on as one of Awatere Valley's substantial farms to sell for grapes
October 2016
When Ken Marfell and his father, Dick, first leased Straits View Farm on the eastern boundary of Seddon in the Awatere Valley in 1956, Ken was 17 and every farm in the neighbourhood was in pasture as far as the eye could see.
After leasing the 261 hectare property with his father for 10 years, the Marfell family took up the opportunity to buy it in 1967. Ken and his wife, Shirley, have lived on and farmed Straits View ever since.
"I was born and bred on the farm next door. This is a good farm, with good dirt, although it is in one of the drier parts of the country.
"We farmed Corriedale ewes and put some to blackface rams and some to Corriedale rams; we brought steers in and fattened them; and we grew dry peas for seed. More recently, with our local water group supplying the farm, we have also been able to irrigate lucerne and send the lambs away earlier," says Ken.
Fast forward to 2016 and productive land in Marlborough is now monopolised by grapes. Sizeable sheep and beef properties with potential for conversion have progressively sold over the past decade and are now in vines. Ken and Shirley were among the few still farming traditionally on land that would otherwise support viticulture.
"We have done well on the farm and decided it was time to move on. We tried to sell in 2014, without success at that time, as the price wasn't right," says Ken.
Enter Greg Lyons and Joe Blakiston of PGG Wrightson Real Estate, Blenheim, with strong networks into the local viticulture sector and a good understanding of who is looking to develop their business.
"When Greg and Joe called in the autumn, saying they had a number of buyers waiting, we sat down for a brew with the two of them, talked it through and decided to give them the farm to sell," Ken explains.
"They were excellent to deal with, going to no end of trouble in what was an active few weeks. We gave them a clear idea of what we wanted and they made sure we received a fair and favourable deal."
Greg and Joe knew there would be keen interest, as Greg describes: "Straits View Farm is one of the last of its size able to be developed. Marlborough's available bare land has been at a premium for some time and sales like this have become increasingly rare. Marketing the property, which has plenty of good country for vines, attracted considerable attention," he says.
When that attention translated into an offer, the property changed hands in July for $4.35 million, after the Marfells' neighbour, Yealands Estate, held out over the other parties who had looked at the farm.
Ken and Shirley have enjoyed living next to Yealands Wine Group principal, Peter Yealands.
"It has been inspiring to see what Peter and his company have done for the district, and he is always a good bloke to sit down and have a yarn with. When Greg and Joe brought the Yealands' offer to the table, it seemed like the right fit and we were certainly pleased to sell to them," says Ken.
Peter Yealands said the addition of the property is a great opportunity for his company.
"Buying Straits View Farm enables us to extend our presence nearly to Seddon township.
"When developed, the property will look fantastic, as the contours really lend themselves to an aesthetically pleasing vineyard, with ample scope for additional wetlands and tree planting. However, we will be sorry to see Ken and Shirley move, as they have been delightful neighbours for the last 16 years," he said.
Fortunately for Peter, the Marfells are not moving far, intending to take a smaller block in the Awatere Valley.
Joe Blakiston said that the property transaction was a milestone.
"Straits View Farm is a notable sale because it marks the end of an era for the Marfell family and the district.
"Yealands Estate is a key client of PGG Wrightson and FruitFed. With the assistance of Blair McLean, FruitFed horticultural sales representative in Blenheim, we look forward to seeing the future development of the property, which is now set to become one of the Awatere Valley's outstanding vineyards," he said
This sale was just one of a number that PGG Wrightson Real Estate has overseen in Marlborough recently, according to Joe.
"Appetite for vineyards and for bare land is exceptional. Particularly after an excellent harvest, interest in Marlborough viticulture land remains strong. Completing the Straits View Farm transaction follows four or five other viticulture property sales we have processed in recent months.
"Fully developed vineyard blocks across the Wairau Plain command interest at values around $200,000 per hectare, while a Rapaura vineyard made in excess of $250,000 per planted hectare in recent months. Listings are in short supply, which has resulted in properties selling before they were even advertised.
"Properties are attracting both local and national interest, with Auckland investors particularly active. As larger wine companies expand their footprint and established growers capitalise on a bumper harvest by reinvesting in land, the market is particularly buoyant and positive at present, with little to suggest that is going to change in the coming season," he said.
Published in the Property Express, spring 2016