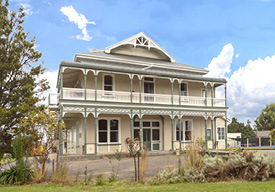 Lifestyle Collection: Marton mansion oozing history
February 2021
A grand home, built in 1901 and connected to one of Marton's pioneering families, is for sale.
Jacqui Campion of PGG Wrightson Real Estate, Fielding is selling the elevated grand expansive villa that sits on a 1.21 hectare block. She describes the home as perfect for a B&B, or well able to accommodate two families, and a wonderful opportunity to go to the next level.
"This home oozes history and features the kind of detail synonymous with the period: ornate pressed ceilings, superb lead light features, sash windows, chandelier lighting, decorative fireplaces and beautiful solid native timber joinery and floors.
"Downstairs features impressive living rooms and a large homestead kitchen, while an exquisite timber staircase leads up to the seven bedrooms and extra bathroom. Bedrooms could be converted to a dining room, library or billiard room. A well-appointed two-bedroom accommodation wing is one of the outbuildings. A large rumpus room includes an extra kitchen that previously held a commercial license, and the property also has a substantial inground swimming pool," she says.
Original owner Sam Gibbons, destined to become one of early Marton's prominent citizens, was born in County Armagh, Northern Ireland in 1843.
Age 16 he arrived in Auckland in 1859, where he took up carpentry, fought in the Waikato in the New Zealand Wars, and spent time in Wellington and Whanganui. He arrived in Marton in the mid 1860s, where he continued to work as a builder, responsible for many of the pioneering town's early houses and commercial buildings, owned a series of hotels and served in numerous civic roles, including as captain of the volunteer fire brigade.
Sam and wife Mary Ann had nine children, many of whom also played a prominent role in Marton life, including one, Clarrie, who was a nationally recognised marathon runner before becoming a prominent rugby administrator and chair of the New Zealand Rugby Football Union in his later life.
For their retirement Sam and Mary Ann built Armagh House in 1901, two kilometres from the town's centre, on its northern outskirts. He died there in 1907 aged 64, while Mary Ann lived until 1928.
In 1935 the Gibbons family sold the house to the Brethren Church, who transformed it into an orphanage that served Marton for 51 years.
The property is selling by deadline, with offers sought by 10 March.
View this property listing here.
Residential Sales Consultant
M 027 593 9764
Jacqui.Campion@pggwrightson.co.nz
Read the full edition of the Autumn Lifestyle Collection here.