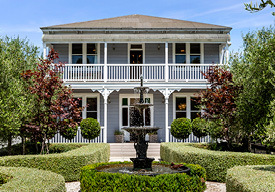 Lifestyle Collection: Relocated 1910 convent school on sale for the first time ever
February 2021
An historic home on a one hectare Tamahere, Waikato lifestyle property is for sale for the first time ever.
Presented to the market by Angela and Russell Thomas of PGG Wrightson Real Estate, Hamilton, the house was originally built in 1910 in Wairoa, where it served as a convent school and the home for generations of nuns for over a century. As Angela Thomas explains, it was relocated in 2013.
"It was moved from Wairoa in four pieces and put back together here. With seven bedrooms, five bathrooms, open plan downstairs with an adjacent lounge and study in the historic residence, it also has an adjoining modern three-car garage, with a flat above.
"As the move required precise deconstruction followed by extensive reconstruction, the house is in excellent shape, with everything level, re-plumbed and re-wired, and an up to date code of compliance," she says.
Angela says its history and character are immensely appealing.
"A three metre downstairs and upstairs stud gives it a stately, expansive feel, while the two front and one side verandahs draw us back to a bygone era. Much colourful stained glass remains, including windows in what was originally the chapel, now re-purposed as a large master bedroom. Its generous Shaker-style kitchen with full ceiling glass display cabinets and a large adjacent butler's pantry, further evoke its original period and use.
"Outside, its established manicured gardens to the front, a large cast iron fountain from England, a chicken run, a young orchard, post and rail fencing and liquid amber-lined driveway, further underscore the property's charm," she says.
With its own lounge-bathroom-kitchenette the flat above the garage could offer a new owner extra income as a rental, or self-contained accommodation for extended family. At 460 square metres, the house also has a brand new high end water filtration system.
After its relocation, its first Tamahere owners on-sold to acquaintances, then its current owners bought it privately after expressing their interest through a note in the letterbox, which means this is the first time the property will be offered for public sale.
The auction will be held at 87 Duke Street, Cambridge at 2pm on Wednesday 3 March.
View this property listing here.
Lifestyle & Rural Sales Consultant
M020 4004 0360
Russell.Thomas@pggwrightson.co.nz
Lifestyle Sales Consultant
M020 4004 0368
Angela.Thomas@pggwrightson.co.nz
Read the full edition of the Autumn Lifestyle Collection here