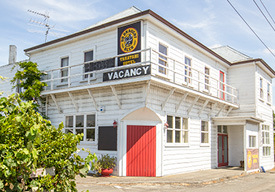 Lifestyle Collection: Long-standing Wairarapa landmark for sale
February 2021
Carterton's Taratahi Hotel, one of Wairarapa's longest standing landmarks, is for sale.
Built in 1858, unlike many hotels of that era that have burnt down at least once, the original building remains intact, the site of many memorable nights out, and a fair slice of local history.
Richard Skelley bought the hotel in 2006. Initially running it as licensed premises, he then leased it for various uses, before setting up an accommodation business.
"It's a big, interesting building with a special feel, and has been a good place to live," he says.
Local Robyn McGregor is a sixth generation descendent of the Taratahi Hotel's original owners, Thomas and Mary Ray.
"They arrived from Northern Ireland in 1840. Mary brewed beer that the other local settlers, including the millworkers from across the road, would come round to drink and pass the time. She had Wellington's first recorded liquor licence. They had a Cobb and Co licence, running a staging post for coaches offering 'food and a bed to the traveler, stabling for his horse and a good substantial meal, for one shilling.' In 1858 they built the hotel, which remained in Ray family ownership until 1915," she says.
On New Year's Eve 1859 the locals gathered for a public meeting in the hotel's front room, when they combined with the nearby villages Belvedere and Clareville, naming their newly formed town Carterton after the most prominent local citizen, Charles Rooking Carter.
"During the local prohibition years between 1908 and 1946, it was the nearest hotel to the 'dry' Northern Wairarapa. Proprietors arranged for a bus to run every evening, enabling Masterton's thirsty inhabitants to come for a drink, which they weren't able to do in their own town. During that era Taratahi Hotel proprietors were regularly fined, either for late opening, supplying youths with drink, or breaking Masterton's prohibition by sending liquor north," says Robyn.
Between the 1950s and the 1980s the Taratahi Hotel enjoyed a second heyday.
"It was an icon of Carterton: the last watering hole before Masterton. Everyone went there. It was full of rugby players and freezing workers, and really hummed, with a gorgeous fire place in the public bar, which is still there," she says.
Bevan Edwards of PGG Wrightson Real Estate, Masterton listed the Taratahi Hotel for sale.
"With two hectares attached, the Taratahi Hotel has boundless possibility to complement its lively history and enduring charm.
"With eight plus bedrooms, multiple bathrooms, an extra-large kitchen, numerous large living areas, a cellar from its early days, stables, a water race and off-street parking, the potential of the property is limited only by the imagination.
"The hotel could return to its original use, or could become a combination of home upstairs and retail or other business use down. It's prime location at the north end of the town, on State Highway Two, offers excellent profile, which could be highly profitable for the right owner," he says.
View this property listing here.
Rural & Lifestyle Sales Consultant
M 027 204 2895
Bevan.Edwards@pggwrightson.co.nz
Read the full edition of the Autumn Lifestyle Collection here.