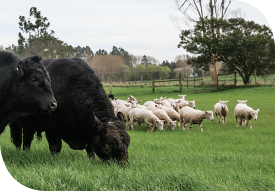 A Closer Look at the Rural Sectors: Autumn 2019
April 2019
Sheep and beef
Several strong sales of sheep and beef property were recorded in the summer, including in west Waikato, the King Country, Hawke's Bay, North Canterbury and South Otago. One such, a 286 hectare, Tauwhare, Waikato farm, carrying around 4500 stock units and offered for the first time in 58 years, sold prior to Christmas after a tender process, in two separate transactions, with the main block selling for $16,000 per hectare and the cropping capable flats for $60,000 per hectare. In some districts, particularly the upper North Island, sheep and beef property values have lifted by as much as 15 per cent in 12 months, and more in the better located areas, which is powerful encouragement for those farmers considering retiring. Purchasers tend to be neighbours, motivated to consolidate their holdings, while others are similarly keen to upscale to larger blocks.
North Island dairy
Various factors combined to thwart activity in the North Island's summer property sector. For the months of December and January, sales statistics were at or near record lows. Farmers are wary of environmental regulation, the downstream effects of the restricted overseas investment regime and cashflow. Their confidence deficit not helped by the warm, dry January and February suggesting production could be curtailed early. Few North Island dairy farms are being offered for sale, and demand from prospective purchasers is scarce. Among the less well regarded dairy properties, buyer enquiry is better where there is potential for land use change, though even there buyer and seller value expectations may not align. While a market correction during the autumn may provide new impetus, it is likely to discourage any farm owner, other than those with a compelling reason to go to the market.
South Island dairy
Demand for South Island dairy properties was low during the summer. In Canterbury, including Mid and South Canterbury, what purchasers will pay for high specification spray-irrigated units in the most sought after localities has eased between $5,000 and $7,000 per hectare. However, there were too few listings, insufficient inquiry and not enough sales activity to fully validate this correction. In Southland pricing expectations range from $35,000 to $38,000 per hectare at the better end; $28,000 to $33,000 per hectare for mid-range dairy farms, where demand is strongest; and in the low to mid $20,000s for the region's least sought after properties. Market impetus for South Island dairy farms is unlikely to increase in the autumn, in fact it is more likely to be the end of September, after calving, before more properties are offered and more purchasers renew their interest.
Viticulture
Several smaller Marlborough vineyards sold in summer as vendors were prepared to meet the market. Development blocks with good rights to water remain in keen demand from corporate buyers. One such, a 166 hectare Awatere property, was offered for spring sale, with a deal likely to be confirmed by early autumn. Another Awatere property, with exceptional water storage already in place and up to 110 hectares suitable for Sauvignon Blanc or Pinot Noir, will also attract attention. Approaching the end of summer, buyers were looking at vineyards for post-harvest possession, by which time most crop outgoings will be expended and the year's yields apparent. With the extraordinarily dry February affecting several irrigation schemes, tonnages and returns for the 2019 harvest will be down. This will have an impact on the market with continued downward pressure on smaller vineyard block prices likely.
Kiwifruit
Values for optimum Te Puke gold kiwifruit orchards sit at $1.2 million per canopy hectare. A handful of these properties sold during the summer, and a few more are likely to as autumn proceeds. However, relatively few are on the market compared to recent years as growers prefer to reap the returns of high export demand. Outside the crop's heartland, a 9.86 hectare gold kiwifruit orchard at Haumoana, near Clive in Hawke's Bay, producing around 14,000 trays per hectare in an early start area, with a house on the property, sold for $10 million in early February. As Zespri issues licences to grow 750 hectares of additional gold kiwifruit per annum until 2022, demand will continue. Much of that will be met by converting green kiwifruit orchards. However, new development blocks are also highly sought, including beyond the Western Bay of Plenty.
Pipfruit and Stonefruit
Demand for Hawke's Bay pipfruit and stonefruit property outran supply during summer, and is likely to remain unmet through autumn, meaning realistically priced orchards offered for sale should sell well. Recent sales included an 8.3 hectare Havelock North apple orchard, with a small coolstore, which sold for $1.25 million. A 7.68 hectare property midway between Hastings and Napier, with a modern home and a peach, plum and nectarine orchard was offered for sale by tender in late February. Like many pipfruit and stonefruit properties, this combines horticulture with lifestyle, attracting interest from prospective owners, including from outside the region, seeking to live there while leasing out the orchard. Several larger new orchard developments are in process, up to 30 hectares, generally on leased land, including in Puketapu, Havelock North and Haumoana. These are scheduled to start producing in 2020.
Cropping
Due to the warm January, this summer's harvest was completed relatively quickly and early. However, wheat yields were down two to three tons per hectare and the wet spring meant a poor white clover harvest. While oats and other crops were average, cropping farmers with properties of 350 hectares or more still anticipate a drop in gross income between $300,000 and $400,000, or 13 to 18 per cent below average. Without that spare cash, additional land investment this year is unlikely, particularly when vendor expectations for premium cropping farms exceed $50,000 per hectare. Any owner considering selling will likely withhold until next year. One high quality property for sale with strong buyer interest is a 385 hectare irrigated arable, lamb finishing and deer unit at Newland, 10 kilometres east of Ashburton. Its sale will be closely monitored by the market.
Forestry
Export demand for New Zealand logs remains steady. India is becoming a more important market, alongside China. Domestic demand for timber also pushes business through local mills. Demand for forest property is tied directly to these trends. Prices for mature forests sit firm at between $25,000 and $30,000 per hectare, while premium quality forestry, with convenient access to ports, is changing hands at $40,000 per hectare. Bareland blocks suitable for forest plantation, between 20 and 100 hectares, are selling in the $5,000 to $6,000 per hectare range, with some Hawke's Bay properties selling for more. Existing forestry interests account for most investment. As purchasers can either buy land or just cutting rights, overseas investment regulations have not altered the market. With little likelihood that export demand will drop, the seller's market is set to continue in the forestry property sector.
◰ Read more in our Latest Rural Property Pulse publication
◰ Read more in our Latest Property Express publication