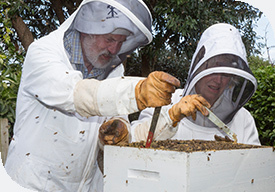 A Perfect Balance of Business and Pleasure
December 2017
Tailor-made accommodation establishment
Feeling they didn't want to grow old in Auckland, Paul and Jan Henwood decided to leave the city in 2003. They bought a 1.37 hectare block of land just outside Cambridge with stunning 360 degree views over the surrounding Waikato, a flat elevated building site, and a gully with a stand of mature native bush. In 2007, they moved down to the property, having purpose-built to maximise the benefits of their site.
After running Hilltop Views Countrystay since, a made-to-measure accommodation business, they have decided to pass the property and the business on, and take their next step.
Jan Henwood says they built the home and have operated the business to suit their own tastes.

"It was just a farm paddock when we started out."
"When we came here with the idea of an accommodation business in mind, we started from scratch, thinking about how we had experienced it from the other side. We set the units up how we would like if we were staying here ourselves.
"Because we have done plenty of travelling, staying in many places, we know what you need when you are a guest. People who stay here tell us 'Oh, it just has everything.' We know what is required for a relaxing stay is a comfortable bed, a hot shower, good food, and local knowledge to help with what to see in the area. Although it is a simple enough formula, it has worked for us and we have had excellent responses from people who have stayed here," she says.
Running the business suits them.
"When people are on holiday they are happy, so it is pleasant," says Jan.
They operate Hilltop Views to fit their lifestyle, rather than the other way round.
"We enjoy travel and go overseas regularly. Making the business work around that, and other family activities, has been easy. We only advertise it on one website and we are as busy as we want to be. Others in the area with similar businesses are on five or six different sites. If someone wanted to take on this business and go hell for leather with it, they could easily do that, though that is not our style, and we do not run it as a hard-nosed business," says Jan.
Hilltop Views won a gold award in the 2007 House of the Year Awards. Comprising two self-contained units, as well as a guest room with en suite in the house, it can easily accommodate six adult guests, with extra beds able to be put in to accommodate children or larger groups.
Centrally located relative to Matamata, Tauranga and Rotorua, with Hamilton not far away, Cambridge has numerous attractions, giving visitors plenty to do.
"Maungatautari, with its native bush and birds, is my favourite, and plenty of our guests also love Hobbiton, which is nearby. There are cycling trails at Arapuni, and kayaking on the lake. For outdoor people, there is so much to do, though many of our visitors like to just sit on the verandah, kick back and relax. In the evenings, our outdoor spa is popular, particularly on clear nights, as there is no light pollution here and guests enjoy a spectacular view of the stars," says Jan.

Rowing at Lake Karapiro and the Cambridge Avantidrome also regularly draw visitors to the district, helping keep Jan and Paul busy.
Standing out ahead of all the other local attractions for the couple though, are their neighbours.
Martin Lee of PGG Wrightson Real Estate, Cambridge, is offering Hilltop Views Countrystay for sale, on behalf of the Henwoods. He says the property is testament to the couple's creativity, and thoughtfulness.
"What Jan and Paul have built here represents such an ideal blend of business and pleasure. Based on the views from the property and the desirable location, they have gone about making this a home that also provides them a useful income. Under new ownership, Hilltop Views can easily carry on at the same level, while also allowing the possibility to tweak it one way or another, to increase the business potential or focus more on the exceptional lifestyle features of the property.
For further information about this property, contact Martin Lee on 027 497 0830 or go to www.pggwre.co.nz/CAM26900