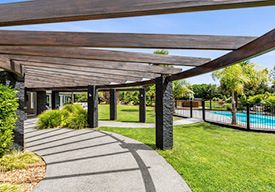 Lifestyle Collection: Auction successes illustrate outstanding lifestyle market
February 2021
Many lifestyle properties are achieving outstanding results at auction.
Sloane Morpeth is PGG Wrightson Real Estate's North Island auctioneer. He has conducted several successful auctions recently and has more scheduled during autumn.
"We are regularly exceeding vendor expectations for lifestyle property. Buyers are motivated and enthusiastic. Formalising their competition via auction is an excellent way to determine value, particularly with the market so buoyant," he says.
Early February auctions include an Onemana, Coromandel peninsula 'beach pad,' offered for sale by Andrew Fowler of PGG Wrightson Real Estate, Tauranga.
"A great location, in a hidden coastal paradise, with easy walks to the shops and the beach, Sloane conducted the auction onsite, under the Norfolk pines, on a sunny Saturday afternoon. We had four bidders on the phone, plus several others gathered on the day. Under Sloane's guidance, the bidding finished at $1.05 million, which emphatically exceeded the vendors' expectations, leaving them ecstatic," says Andrew.
Also selling well under the hammer was a six bedroom Tamahere, Hamilton property, marketed by Russell and Angela Thomas of PGG Wrightson Real Estate, Hamilton.
"People desire more than ever to live on a lifestyle block: the advantages of country living, while remaining connected. A high quality home, ideal for multi-generational family living, or an Air B&B business, this property attracted huge attention, with 76 viewings in a short campaign, culminating in four bidders tabling 16 bids in an active, competitive auction room. It sold for $2.35 million: an excellent result," says Angela.
Meanwhile, Kirsty Walker of PGG Wrightson Real Estate, Tauranga, had auction success on a highly picturesque 1.4 hectare property fronting Mangakarengorengo River, Lower Kaimai.
"We received more than 120 genuine text, phone or email enquiries, including some from people with family members overseas asking them to view the property. Three active bidders were at the auction, with two more on the phone, plus others with conditional finance, and more we heard from since who were unable to organise their finances in time. A successful bid of $1.15 million exceeded expectations and delighted the vendor," says Kirsty.
PGG Wrightson Real Estate National Sales Manager, Camron Meade says auction is proving its worth.
"In many instances, our salespeople and vendors are finding it best to leave decisions on property values to the purchaser.
"Prices have recently gone to surprising levels. With such strong demand, buyers outnumber the properties available, putting upward pressure on the market. As a consequence, purchasers are prepared to pay more than many vendors expect.
"In those circumstances, as the present results testify, the best and most transparent way to sell a lifestyle property is through auction," says Camron.
Read the full Autumn Lifestyle Collection edition here.