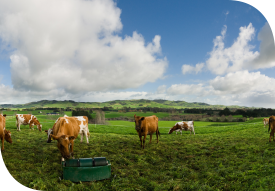 Autumn livestock market shows farmers remain positive
June 2018
Excellent weather and plenty of grass kept the autumn livestock trade buoyant.
Mycoplasma bovis impacted on the dairy livestock market, persuading existing buyers to purchase stock earlier than they would typically have done. Market activity increased and several clearing sales, previously scheduled for May, were brought forward, becoming paddock sales instead.
In general, the greater rate of activity did not affect prices, which remained steady as good-quality dairy cows sold at firm values approaching $2,000 per head. Yearling heifers were in particular demand, however, with prices rising by $50 to $80 on last season, to between $800 and $1,000 per head.
In the wake of the outbreak, buyers selecting dairy livestock have tightened their criteria. Traceability has become a key issue for some, while others are asking more questions about stock they are interested in.
Favourable growing conditions and confidence around the payout has increased demand for external grazing, encouraging more farmers to graze herds off-farm than in the last two to three seasons. Boner cows were taken out of herds and sent to the works or saleyards at similar rates as recent years.
Beef livestock sales were boosted by one of the best autumns North Island farmers have experienced for several years, which produced abundant feed across all districts. Weaners sold for solid prices, especially steers, which are proving more popular to farm than heifers, with trading margins for the latter under pressure. Demand for in-calf cows has also softened, and prices are down by 10 to 15 per cent.
At the national bull sale in Palmerston North in May, which was held for the first time as a video sale, steady demand was evident for the main breeds. This sale sets the scene annually for bull sales throughout the country until June. Prices were similar to last year and the volume of bulls traded was also consistent with previous years. Top prices among the main breeds were $35,000 for an Angus bull from Te Mania; $22,000 for a Hereford offered by Capethorne; and $11,000 for a bull from Longview Shorthorns.
In the South Island, calf sales started strongly at the end of March then tapered off as the season progressed. At the Otago and Southland sales, prices were back by around $100 per head on last year and, in the Marlborough and Canterbury calf sales in late April, prices also softened by up to $100 per head.
Sheep, meanwhile, traded well in autumn, approaching record prices across all categories of lamb and mutton. In mid-May some processors were paying around $7.20 per kilogram for lambs, and trends suggest good demand for sheep will be maintained.
This report was prepared in consultation with PGG Wrightson's Livestock team.
> To read more articles from the Rural Property Pulse, click here.