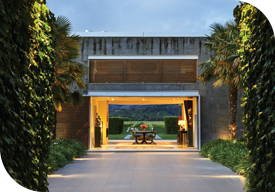 Bhudevi, Earth Goddess
March 2019
Contemporary Marlborough earth goddess delivers refinement, luxury and tranquility.
One of Marlborough's finest modern homes is for sale.
Bhudevi is situated in Rapaura, 10 kilometres north west of Blenheim in the heart of the country's foremost wine region. Jane Casey and Bruce Miller have owned the eight hectare property since 2009. They spend their time between this and another home, in Bangkok, where they are both Asian art professionals.

Love first brought Jane and Bruce to New Zealand: originally from the United States, living in South East Asia, and keen to marry without the complication of bringing friends and family from around the world, they decided on a small, simple ceremony, and Marlborough offered the ideal combination of romance and remoteness.
A few months after the wedding and honeymoon, looking at deepening the connections they had made to a country they had fallen a little in love with, the opportunity came up to buy what was already one of Marlborough's most remarkable contemporary homes, designed by prominent Christchurch architects Kerry Mason and Huia Teriti, and built in 2005. Seeing photographs, Jane and Bruce took the plunge, returning to New Zealand to view the property. A year later, they owned it.
"As soon as we arrived, we were absolutely entranced by the spectacular view to the Richmond Range, and we felt completely at home. I had never felt this way about a place or property before. I felt very grounded and a tremendous sense of peace here," says Jane. That was their inspiration for naming the property Bhudevi, the Sanskrit name for Mother Earth, or the earth goddess. Their years immersed in Asian culture also influenced what they did to make the home their own, adding Indian sculpture features in the garden, and decorating the house with their Asian art.

Transforming Bhudevi's exterior was another challenge. While Jane's pet project was turning the 6.3 hectare vineyard organic, Bruce had a vision for the 1.5 hectare grounds.
"We came to New Zealand for nature, so the plan was to plant entirely in natives. We wanted it to look like nature undisturbed. There is a calmness about green, which is a constant with New Zealand native species," he says.
Established since 2009, Bhudevi's grounds now include an outdoor sculpture garden, a native garden along the creek, a secluded rock and fern garden, and an elevated garden with views overlooking the vineyards across to the Richmond range. Birds feature in the native garden, which has many sheltered and open seating areas to enjoy the birdsong, the plants, and the sculptures. Smaller garden rooms adjacent to the house are inspired by formal designs. A citrus garden, bordered by a myrtle hedge, features a pavilion enclosed in wisteria. A small hydrangea garden acts as an extension to the glassed library at the west end of the main house.
Although they have loved the property, and are committed to Marlborough, where they have made many friends, they have decided to reduce in scale. Jane and Bruce have therefore brought Sophie Greer of PGG Wrightson Real Estate, Blenheim on board to sell Bhudevi. Sophie says the couple have used great ingenuity, and spared no effort, to turn their inspired vision into reality.

"Seldom does a property strike such a brilliant balance of luxury sophistication and cutting edge design. It is a tribute to Jane and Bruce's energy and vision. Home and grounds complement each other to perfection. What they have created is a remarkable garden, rated regionally significant by the New Zealand Garden Trust, and featuring regularly in the annual Garden Marlborough show. It is matched by a tasteful and refined residence, which is one of the most admired in the region," says Sophie.