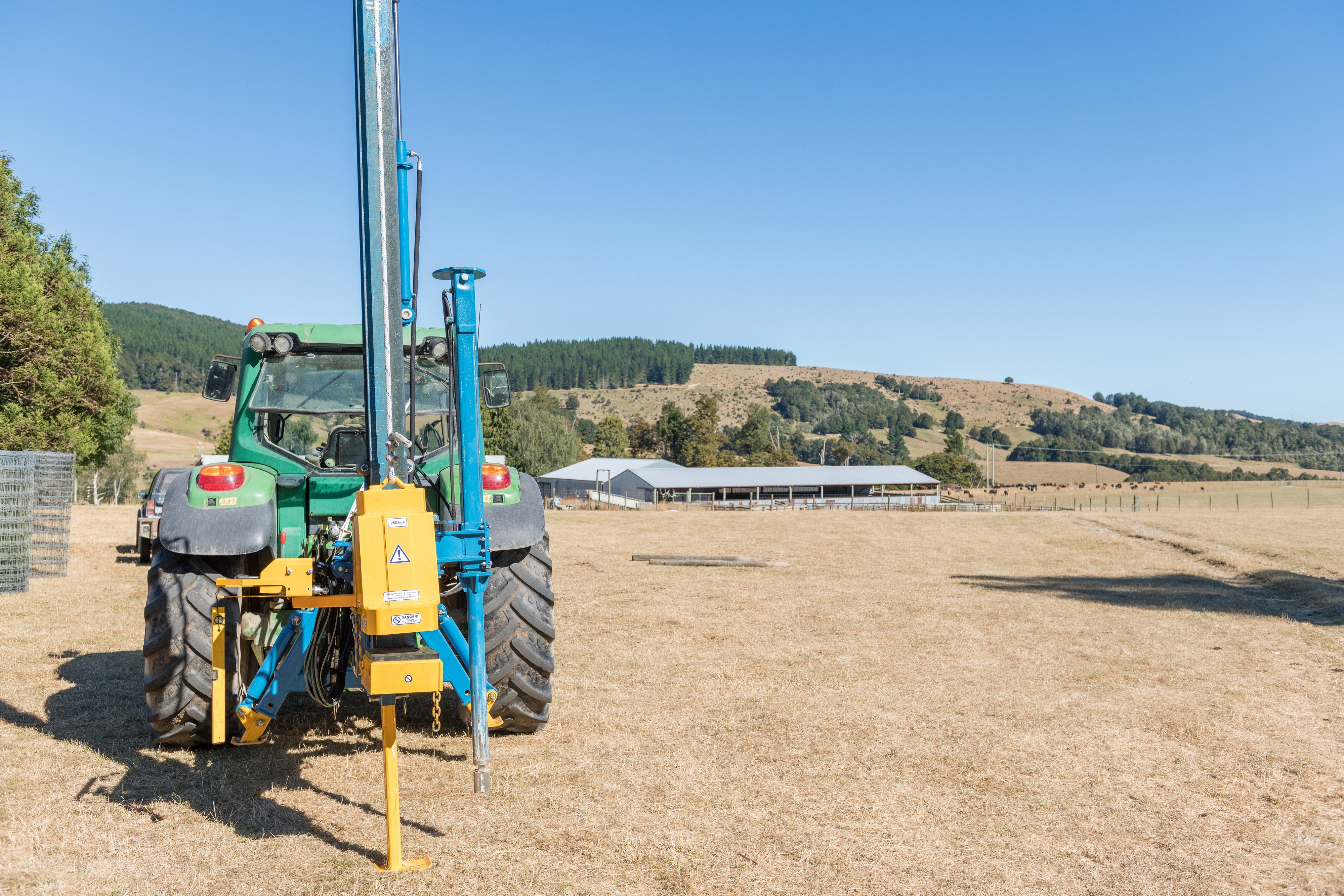 Big Bush - Nelson Lakes
April 2019
Crossing over on Nelson Lakes farm as one family enters while another exits the dairy sector.
One family's aspiration to move into dairying has coincided with another couple's plans to exit the sector and rogress their deer herd. As the two intersected shortly before Christmas, the tenure of Big Bush, a 339 hectare Nelson Lakes sheep and beef property, passed from the former to the latter.
Peter and Sharon Watson previously farmed in Maruia. They have owned the Kikiwa property, which was originally the front country of an 800 hectare station now predominantly in forestry, since 2004. As Peter explains, his association with Big Bush goes back further.
"My parents knew the farm's owners between the 60s and the 80s. I came here once. I didn't know then that I would buy the place. It's a beautiful area, and closer to town than we were. Compared to what we were used to, it's
close to lots of places," he says.
On the farm the Watsons have overcome several challenges, starting in their first year, when a flood took out the wooden bridge that provided Big Bush's main access across the Motupiko River.
"We had 150 millimetres of rain overnight, which also washed away two of our major culverts. We couldn't get trucks to the cattle yards, so had to load out on the other side of the road, taking cattle through the deer shed and yards.
"Because we have a good relationship with Nelson Forests, which has access for forestry extraction on our top boundary, we were fortunate enough to work with them to reinstate the bridge relatively quickly," says Peter.
In August 2008 the weather delivered another blow. "We were two feet deep in snow which sat around for two weeks. In Maruia we only ever had a few inches which melted straight away. This fall hit two weeks before lambing. However, we only lost 12 sheep, so came through OK," he says.
Peter is proud of their production improvements in 15 years. "We have lifted lamb weights and taken our lambing
production from 130 to 155 per cent. We have replaced some of the old fences, particularly the forestry fences, which have gone from five wire electric to seven wire post and batten; we've done some pasture renewal in the last six years; kept the farm in a tidy shape; and we renovated the house in 2007," he says.
In August 2011, Peter faced another challenge: a heart attack struck when the pens were full and the shearers were ready to go. Instead of joining them, Peter was in a helicopter heading to Nelson Hospital, where he had a stent implanted.
After that, son Ben came back to help out on the farm, joining the family partnership along with daughter Vanessa. They made a few modifications, including reducing stock numbers, and Peter and Sharon re-evaluated.
"Although sheep and beef has been my passion for 35 years, it's not necessarily Ben's passion. He's more interested in dairy. You need to let the next generation make their own way. We decided to sell the farm so that Ben can follow his passion," says Peter.
They brought in PGG Wrightson Real Estate Nelson/Marlborough Sales Manager Joe Blakiston, and his colleague Greg Lyons. After initially running a tender process, they put a price on Big Bush, which encouraged David and Sonya Thomas to show their hand. As with Peter, the farm had been on David's radar for a while.
"I've always driven past and thought it would be a nice place to own. When the fixed price went on, we realised it was within our scope, and decided to take it more seriously," he says.
Joe gave David and Sonya a tour of Big Bush on a Saturday, they made their offer the following Monday, and it was all signed up shortly after. Previously Matakitaki has been the Thomases' home, running a large mixed dairy, beef and deer operation with David's parents and sister.
"I've been on the family farm all my life, dairy farming full time for the last 34 years. We also have 500 breeding hinds on different blocks of land, built up initially from trapping wild Matakitaki deer.
"Deer are animals I have always enjoyed working with, at first hunting, more recently farming them. I enjoy working with cows as well, though there is more to life than getting up at 3.30 every morning. We wanted a better work-life balance, which a stronger emphasis on deer will bring," says David.
Although 58 hectares of Big Bush was deer fenced by previous owners, the Watsons have never run deer, concentrating instead on Hereford/Angus cattle and Romney/Texel sheep; hunting feral deer on neighbouring properties, which include Mt Richmond Forest Park. David and Sonya plan to change that, and have begun putting in 10 kilometres of deer fencing, even though they don't take possession until 31 May. The Watsons have given them early access to the property to erect the new fencing, which was an essential aspect for the sale to proceed.
"We will carry on farming sheep and cattle, though want to diversify with the addition of David's deer. We want to explore the biological benefits of cross grazing three dfferent species and to take that further," says Sonya, who spent seven years working with the Department of Conservation and also has plans for the property's 12 wetlands.
"We would like to protect and regenerate them, if possible. Big Bush also has several significant blocks in natives, which we will fence to restore the understory and subcanopy. We'll also put a strong focus on weed control. I have a passionate dislike of weeds and pests," she says.
Matakitaki is at the end of a 30 kilometre gravel drive and 99 kilometres by road to Kikiwa. David and Sonya look forward to immersing themselves in their less remote new community.
"I've always wanted to be a volunteer firefighter, though the local fire brigade in Murchison was too far away for me to be of any use," says David.
Meanwhile, the Watsons are pursuing their dairy plans on a property at Canvastown, in the Rai Valley. Ben will call the shots, leaving his father as 'the boy.'
"He'll be telling me what to do. I'm not sure how well that is going to work. I've been telling people what to do for more than 30 years. I'd like to try fishing. I've never had the opportunity to fish before, it's always pig or deer hunting, so maybe I can take it up. There's plenty of opportunity for it in the Sounds. Ben says he can't imagine me fishing. I told him: 'Just you watch me!'" says Peter.