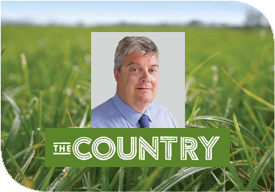 Peter Newbold - Live on The Country February 2020
February 2020
GM for Rural Real Estate Peter Newbold joins The Country's Jamie Mackay to take a look at the rural property market this month.
They also discuss if recent developments around the coronavirus have impacted farm sales.
Newbold does not think this is the case based on the consistency of sales; however, the market continues to be tough at this time of year.
The time of year continues to factor in farm sales along with New Zealand weather patterns exhibiting one extreme to another.
Newbold reflects on his recent visit to King Country, saying he hasn't seen it so dry, but this does not necessarily mean it will impact sales.
Mackay mentions that Canterbury sheep and beef farms have been a stand-out for this season from non-irrigated country.
Newbold adds this might be due to the moderate size and location of the property.
Dairy continues to be quiet, with very few purchases at the moment. Newbold says it has probably been the quietest in a decade. The odd ones that have sold have mostly been closer cities or triple A.
Newbold mentions that some of the bigger dairy operations are starting to consider dividing their properties into smaller farms.
Finally Newbold and Mackay take a look at PGG Wrightson Real Estate's Property of the Week: A Waitahuna grazing block.