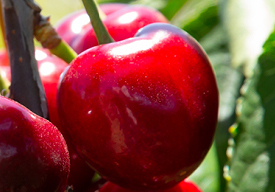 Property Express: Cherry expansion changing the Central Otago landscape
September 2020
Cherries loom large in Central Otago. While Covid-related market pressures are creating challenges, demand for orchards and land to grow cherries in the region continues to rise.
Neil Bulling is PGG Wrightson Real Estate Manager in Cromwell. Having grown cherries commercially himself, he watches the sector's development closely.
"Any cherry orchards we list for sale generate steady enquiry. Properties will come to the market during spring and summer. Low interest rates mean sales are likely.
"Based on financials, orchards currently sell between $450,000 and $580,000 per planted hectare, excluding the value of homes and improvements," he said.
Troy Mackey, Central Otago Team Leader for PGG Wrightson and FruitFed Supplies, has seen a change in the landscape.
"A traditional Central Otago pipfruit or stonefruit property, including cherries, is a family-owned 10 to 20 hectare orchard. In recent years Central Otago's lifestyle has attracted increasing numbers of rural people to our region, planting land in cherries. Corporates are also interested, converting large tracts of sheep and beef country into cherry orchards, which creates demand for staff and packhouses.
"Some growers are going organic, following the lead of local vineyards producing organic wine.
"A family-owned Clyde orchard is also growing cherries under eight hectares of retractable cover, which provides weather protection, enabling them to bring produce to the market six weeks ahead of conventionally grown fruit," he said.
China plays a huge role in growers' prospects.
"Chinese New Year is where the bigger money is. Freight costs rising hugely will have an inevitable impact," said Troy.
Neil Bulling says Covid is a challenge.
"Uncertainty in world markets and air freight are issues. Passenger planes transport the bulk of cherries. Disruption from the pandemic makes access to markets difficult, and expensive. Since many cherry pickers and processors are overseas seasonal workers, staffing for this season's harvest is also problematic," he said.
He also expects orchard syndication will increase.
"Most orchards belong to the operator, with hands-on management. New cherry developments use training systems that accommodate modern technology, mechanical aids, and greater efficiency for light interception. Such development requires significant investment, which is often based on non-traditional business models," said Neil.
Branch Manager / Auctioneer
M 027 432 8978