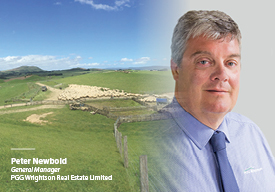 Rural Property Pulse - Confidence in the market set to return as fundamentals remain strong
January 2020
Spring arriving late and tighter conditions around bank finance left us with a subdued rural property market in recent months. Farmers are dealing with uncertainty on several fronts, which will generally leave many too cautious to consider buying or selling farm land.
However, the Reserve Bank announcement to lenders late last year will hopefully lead to increased confidence within the banking sector resulting in a more proactive approach to lending (see page 3 for more on this).
Good growing conditions, excellent prices for most commodities and the Reserve Bank's announcement all point towards increased momentum in the rural property market during summer and autumn. With farmers better understanding the uncertainty that has prevailed around pending or recently adopted regulations to manage nitrate leaching and carbon emissions, they will see that the underlying fundamentals of world markets remain strongly in their favour.
Increased activity is likely to start in the sheep and beef sector, which is more removed from both the environmental pressure and the tighter banking criteria that applies to dairy. This is already visible with December seeing key sales of both sheep and beef and arable properties along with encouraging signs of horticulture properties coming to the market.
In regions including King Country, Eastern Bay of Plenty, Hawke's Bay, Tasman, North and South Canterbury, Otago and Southland there is plenty of activity and several excellent sheep and beef properties for sale, attracting motivated buyer's interest. In the Waikato, where in recent months property listing levels have been lower than expected, December has seen an increase in activity. Where purchasers have the financial wherewithal, transactions will occur. For those that cannot secure a loan in the usual fashion, via a bank, alternative measures are likely to emerge.
Dairy property transactions were held in check during the spring. While the payout continues to trend to the positive, the motivation to buy increases and the reasons to hold back diminish. At present there is a mismatch in the dairy sector between the price expectations of buyers and those of sellers. Eventually, as the uncertainty noted above is resolved, we expect this discrepancy will reduce and the market for dairy farms will resume at more normal levels.
Whether you are interested as a buyer or a seller of rural property, this edition of Rural Property Pulse will give you an insight into the present state of the market.
For further guidance, please drop by or contact one of my colleagues at your local branch of PGG Wrightson Real Estate. They have the experience, networks and objectivity to help you achieve your business objectives when it
comes to the sale or purchase of a farm.
We look forward to hearing from you.
Peter Newbold
General Manager
PGG Wrightson Real Estate Limited