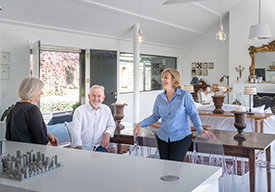 Contemporary and Stylish - Fruitlands Property Mixes History with a Contemporary Home
October 2018
Ten years ago Dianne and Stuart Duncan lived in Parnell, Auckland. Although they were happy in the city they called home for 40 years, having both grown up in small towns they fancied a change of pace. After looking around at what other regions had to offer, they opted for Central Otago.
"We loved the climate and the landscape. Being close to Wanaka, Queenstown and Dunedin gives us plenty of options, and when we weighed up this region against the other parts of the country we looked at, we decided Central Otago was our preference," said Dianne.
Heading south, they met Jo Priebee of PGG Wrightson Real Estate, Alexandra. Realising how much the Duncans appreciated old buildings, Jo found them a small lifestyle property in the historic settlement of Fruitlands, between
Roxburgh and Alexandra. As well as its outstanding views to the Old Man Range, the property was the site of the historic Cape Broom Hotel, comprising several old stone buildings.
Dianne says she and Stuart initially intended to renovate.
"These buildings date back to 1870, though the main hotel structure suffered serious fire damage in 1910, since then it was only repaired sufficiently to use as a shearing shed. When we bought the property, we had a refurbishment project in mind, though decided there was more involved in that than we wanted to take on," she says.
After doing some maintenance to tidy up the historic buildings, which also include a heritage listed hexagonal stone dairy, they built a contemporary home on the property.
Now they are ready to down-size, and have again asked Jo Priebee to offer the property to the market. She describes the house that Dianne and Stuart built as 'one out of the box.'
"Its quality and design features are in keeping with an upmarket Auckland suburb. With seamless outdoor flow, the generous sliding doors ensure superb views of the incomparable Central Otago landscape. Offering prospects as either a bed and breakfast retreat, or a family home, or both, this high quality house is wonderfully set up for outdoor living and entertaining," she says.
Since developing the house, Dianne and Stuart have spent plenty of time in the garden, as Dianne explains.
"Half is in lawns and mature trees, including a line of heritage oaks dating back to the days of the hotel, plus various other deciduous trees, which look particularly spectacular during autumn. Around the house are cottage style plantings, with flower gardens, roses, peonies and an extensive vegetable patch. We have also planted a small olive grove.
"Compared to Auckland, the conditions are much colder and drier. We are at the highest point between Queenstown and Dunedin, so it snows regularly. That enables us to grow things we couldn't in Parnell, such as roses and bulbs, which are fantastic, with no mildew or black spot to contend with," she says.
They are also active in the local community.
"We have a great mix of people, including long term locals and others who have moved to Fruitlands from various parts of the country.
There are about 20 properties in the valley and we all get together a few times each year," says Dianne.
Jo Priebee says the property will provide outstanding lifestyle living.
"Its combination of impeccable modern upmarket residence, superb outlook to the Old Man Range, immaculate landscaped grounds and the potential of the historic buildings, in a friendly authentic local community, set this up as entirely unique. Dianne and Stuart have fashioned a wonderful lifestyle here and now the scene is set for someone else to make the most of it in their place," she says.