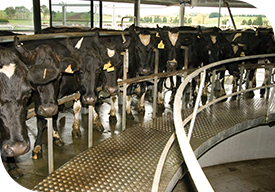 Dairy cycle at low ebb and poised to swing back into the positive
March 2019
Growth of the dairy sector, associated with significant escalation in the capital value of property, appears to have reached a cyclical low. Farmers able to diversify, or with property suited to alternative land use, are leading the market into a new phase.
Dairy expansion, whether from land conversion or the acquisition of existing farms, peaked around five years ago, and has now slowed. In some cases it has even reversed.
Land values are easing and dairy properties are taking longer to sell. Spring and summer, traditionally the rural property market's busiest time, have been subdued.
Dairy is at the sharp end of several challenging factors. Dairying land use appears to be receding from its high tide mark, with an emerging number of farms across the country switching to horticulture, cropping and sheep and beef finishing.
These new conversions are an emerging trend, likely to become more noticeable in the next few years.
For example, a marginal Bay of Plenty dairy farm might go back into horticulture. Additionally, small Pukekohe cropping operations are under pressure for conversion to residential or lifestyle use, which is in turn pushing growers out to seek quality land around Matamata, converting that to grow vegetables.
Those sectors where the returns are greater are coming to the fore and properties suitable for different land use are being converted accordingly. When greater value resides in putting a farm into a different land use, the market is acting swiftly to make the change.
While it is not a sign the dairy industry is in demise, on present trends it is unlikely to grow bigger.

According to the Real Estate Institute, supported by observation on the ground, several farms have switched from dairy farming back to sheep and beef in Northland, southern Hawke's Bay, Wairarapa and Southland. These farms include established dairy farms and newer farms converted more recently.
A significant number of dairy properties are currently on the market, particularly in Waikato. In many instances, aspiring vendors and prospective purchasers ascribe different values to these properties. Where agreement cannot be reached, farms will not sell. When both parties are prepared to compromise, everyone is able to progress.
There is little demand for second or third tier dairy properties. Only the most admired, with the highest specifications in the most favoured localities, are still selling well.
While sale volumes remained largely unchanged, the number of farms listed for sale has risen, particularly in Waikato, though these numbers seem set to also rise in other regions as 2019 progresses. Generational change is a constant. Those who do not wish to deal with more testing compliance regimes, or who are struggling with the availability of farm labour, are opting to leave the sector.
We currently appear to be at the bottom of the cycle. Reviewing the statistics, 2014 was the peak. Although market activity has waned since then, sales should start to pick up in autumn, then again next spring, as vendors and purchasers revise their expectations on values and re-align with each other.
◰ Read more in our Latest Rural Property Pulse publication
◰ Read more in our Latest Property Express publication