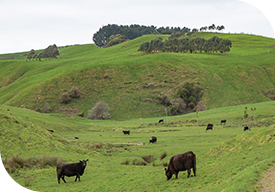 Demand for sheep and beef farms pushes prices up
March 2019
Several sheep and beef farms have sold in the past few months with a lift in prices suggesting that confidence in the sector remains strong.
Regions where significant sheep and beef property activity has taken place recently include west Waikato, the King Country, Hawke's Bay, North Canterbury and South Otago.
Recent sales include:
Grassy Downs, a 286 hectare, Tauwhare, Waikato farm, carrying around 4,500 stock units and offered for the first time in 58 years, sold prior to Christmas after a tender process, in two separate transactions, a downland block selling for $16,000 per hectare and cropping capable flats for $60,000 per hectare.
Hauiti, a 474 hectare Mahoenui, King Country breeding and finishing farm, in the same family for the last 60 years, which sold in January firm on local values.
Tahuna, a 580 hectare predominantly flat Waipawa, Hawke's Bay property changed hands in early November, bought by a local farming family after a tender process.
Brookfields, a 241 hectare Te Pohue, Hawke's Bay farm that sold just prior to Christmas firm on current values.
Big Bush, a 339 hectare Nelson Lakes sheep and beef farm, also changed hands just prior to Christmas firm on recent values shortly after a tender process.
Mandamus Downs, an 844 hectare Culverden, North Canterbury farm sold in December firm on local values, after being held in the same family for 110 years.
Manahune, a 249 hectare Glenmark, North Canterbury breeding and finishing property, specialising in prime lamb production, sold after 102 years in the same family in November following an auction campaign.
Waiau Pastures, a 400 hectare irrigated Parnassus, North Canterbury property sold in early February.
Lambourne, a 353 hectare Clydevale, South Otago property, carrying approximately 4,000 stock units changed hands in late October for around $20,000 per hectare.
Waikerikeri Run, a 916 hectare hill country grazing property on the Dunstan Range, with a large QEII covenant, which sold satisfactorily in January after a tender process.

One thing that might hold back sheep and beef property transactions during the autumn is the sector's own strength.
With the positive fundamentals in the red meat sector some farmers who might otherwise consider selling will be tempted to hold on and reap the cashflow rewards from the returns on offer. This may not be wise. Farmers pondering retirement would be well advised to act now in order to capitalise on the many willing buyers looking for quality farms this autumn.
Timing is everything.
◰ Read more in our Latest Rural Property Pulse publication
◰ Read more in our Latest Property Express publication