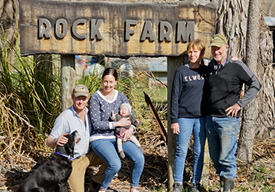 Property Express - Family farming innovation
October 2019
South Canterbury farm selling after 95 years of family innovation.
A large and diverse farm holding in South Canterbury is for sale after being in the same family for 95 years.
Rock Farm and Moa Flat total 640 hectares. Comprising the former of 490 and the latter of 150 hectares, they are located at Pleasant Point, with easy proximity to Washdyke and Timaru. When originally established as a farm
they were part of the Levels Station, which was one of many large runs owned by the Australia and New Zealand Land Company. Back then the property was known as the Cave Outstation where the run's stock work was done.
Farmed since the 1980s by Herstall Ulrich and wife Aly, Herstall's mother's parents Geoff and Sybil Rich purchased the property in 1923. Herstall says the farm has always had a local reputation for innovation.
"They were the first to buy a crawler tractor and the first to own a four wheel drive Land Rover, though I can remember doing the lambing beat on horseback," he says.
Herstall's parents Penny and Gerard Ulrich took over the farm in the early 50s. Gerard, the son of a Timaru doctor, had always hankered after farming. He did an agriculture diploma at Lincoln, then worked on various high country stations, ending up in South Canterbury where he met Penny.
"This was a summer dry property so climate was the challenge, finishing the stock before the grass stopped growing. They did have the Korean War wool boom though, which gave them the opportunity to buy more land.
"A few years after World War II was over, with pilots coming back, they pioneered top dressing with rudimentary planes. My father and grandfather opted for that to increase production. They raised ewes and lambs, with
the lambs finished in early December to feed the English pre-Christmas market, sending lamb carcases over whole to Smithfield, London," says Herstall.
He and Aly took over at a challenging time. "My parents persuaded me to pay my sisters out, then Rogernomics hit and interest rates went to over 20 per cent, which set us back.
"We focused on increasing production. We had previously utilised Muldoon's 'skinny ewe policy,' with loans encouraging higher stocking rates. I've always tried to be a good feeder of livestock. We took on loans to
develop the pasture and renew the fencing," he says.
Aly says the 80s and early 90s were a decade to forget.
"A massive drought was going on at the same time. We had to make decisions on killing more stock so we could carry on. However, we had a young family and didn't need much, so we hunkered down," she says.
Once things became easier they were able to start innovating again, as Herstall explains.
"We borrowed more money to irrigate Moa Flat, which we then upgraded to a pivot, and more recently built on-farm water storage. Although we had an allocation from the Opuha scheme, they weren't able to deliver water, so we sold the shares and used the proceeds to build our own storage ponds.
"When we put the pivot in, we had to pull down the fences, so took the opportunity to convert to a bull beef technograzing system, based around movable fibreglass fenceposts. We were one of the first South Island farms
with that system. We could grow more grass to feed the bulls and produce more meat per hectare.
"Our most recent development on Rock Farm was Lucerne. We took Professor Derek Moot's recommendations and now 55 per cent of the farm's grazing land is in Lucerne based pastures. That plant has revolutionised
what was previously a summer dry property. Lucerne harvests water out of the deep clay, so only a really significant drought will stop the Lucerne growing, when even summer safe farms would feel the pinch. We increased
our stocking rate and now have 12 to 14 units per hectare which is unbelievably high," he says.
With the shift to Lucerne, they have also moved away from breeding.
"We are growing all this quality feed through 10 months of the year, yet with breeding ewes, all it is doing most of the time is growing low value crossbred wool. We decided to utilise that feed better by focusing more on finishing. That also gives us other benefits: when we had up to 3000 breeding ewes during a drought, shifting them off
became a big problem," he says.
One innovation didn't work out, though helped making a decision.
"Dairy was good, every irrigated hectare was heading towards dairy and we had an irrigated farm growing plenty of grass. We had a choice to intensify or buy more land, and decided intensifying would be better.
"We also installed the infrastructure for robotic milking, setting up a cut and carry feed operation. While our production was right up to what the budgets said was possible, the costs were higher than expected, then we were hit by a downturn in returns, plus another severe drought, meaning even our irrigation was restricted, so we weren't able to grow our own feed," Herstall explains.
Aly and Herstall's son Alex had come home to manage Moa Flat. Going through the dairy challenges, while watching many neighbours face mycoplasma bovis, helped him realise his passion was more with arable than livestock,
which contributed to the Ulrichs' decision to sell.
"Decisions around succession were looming. Alex and his wife Ashleigh are the next generation. He realised his passion is arable farming so our decision to sell became obvious," he says.
Herstall and Aly brought in Calvin Leen, Mid and South Canterbury Sales Manager for PGG Wrightson Real Estate, Timaru and his colleague, Simon Richards, to list Rock Farm and Moa Flat for sale.
"Rock Farm is mainly of a rolling to steeper contour, with good soils suited to stock, plus some cropping. Expertly developed as a predominantly finishing property, its improvements come from carefully considered innovations executed to the highest standards. It offers a new owner excellent productivity along with multiple
options for ongoing profitability.
"Moa Flat is available alone or with Rock Farm. Mainly flat to rolling contour on excellent soils, with reliable irrigation, its versatility gives it broad appeal, while the large dairy barn, which has been used for finishing cattle and
raising calves, adds another dimension.
"Both farms offer outstanding aesthetics," said Calvin.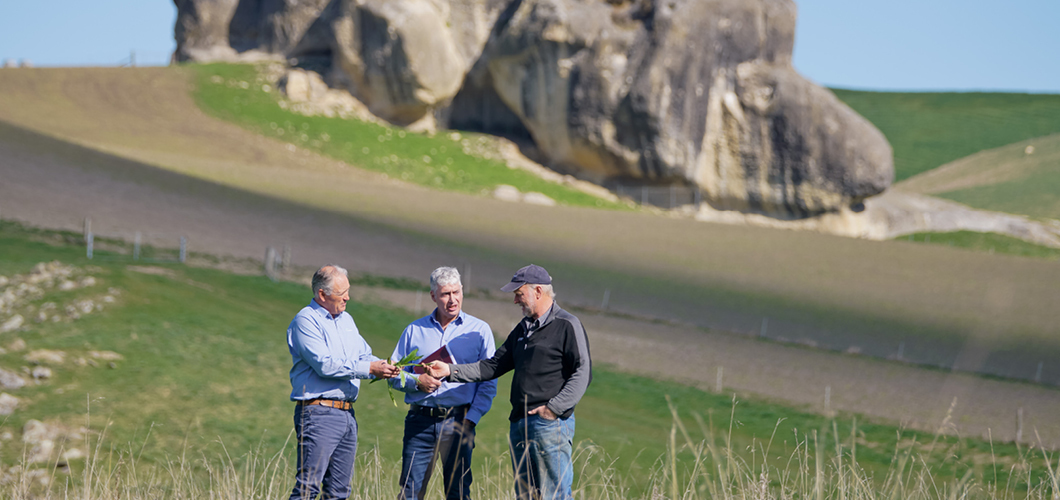 Aly will miss Rock Farm's visual appeal.
"I love walking the hills. It is a beautiful farm with magnificent views. Whenever I can, I walk to our tops and look out across the Canterbury Plains, to Mt Hutt and beyond and back the other way to the McKenzie Basin.
"I also love this house which has so much character," she says.
Herstall, meanwhile, will miss farming.
"I have been passionate about it all my life, though over the past 25 years I have also been a director of various companies offfarm, and will continue to enjoy the cut and thrust of that. I'm also looking forward to helping Alex take the next steps in his farming career," he says.
To read more this property go to page 68 of the Property Express magazine by clicking here.