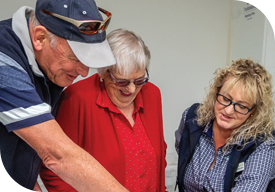 Fiordland Retirement Living
April 2019
Community project delivers on Fiordland's affordable retirement housing needs.
An innovative community project first conceived 25 years ago is now coming to fruition in Te Anau.
Murchison Villas is a 23-unit village providing affordable retirement housing on north-facing plots with mountain views. Previously in the area, residents who were no longer able to stay in the family home had to move over 100 kilometres away, to Invercargill or Winton, distant from friends and family, for suitable accommodation.
Bev Coppin is set to be one of the village's first occupants. A Te Anau local for the past 26 years, she has seen contemporaries with no choice but to move into retirement villages outside the district, and was delighted when the opportunity came up for her to stay in the town.
"As far as I am concerned, we have everything we need here: good medical services, shops, and a pleasant community. I have friends who have moved out of Te Anau into retirement accommodation elsewhere and apart from being so far away, although they have nice units, they can be like living in Coronation Street, all joined together. That wasn't for me. I much prefer this complex and my stand alone unit.

"There are no steps in my new place. I use a walker, so moving in and out of my current house, I have to lift the walker up and down the steps, which is not easy, and it will be great not to have to do that any longer. Also, we are located right next to the medical centre, just a few steps from my front door, which is really convenient.
"In most other retirement villages the residents only have 'right to occupy' rights. Here I actually own my new place, on its own title. That is another big plus," says Bev.
Sandra Macnamara and Jenny King of PGG Wrightson Real Estate, Te Anau are marketing Murchison Villas. Sandra says the two and three bedroom houses have been popular, with most of stage one sold off the plans and strong interest in stage two.
"Most purchasers are long term locals, living in Te Anau or Manapouri, often with children and grandchildren in the district. This development delivers homes in the $350,000 to $450,000 range, which is way below the prices charged elsewhere for retirement accommodation. Residents must be 60 years old or older. While there are a few other conditions around ownership, to make sure Murchison Villas delivers on its objective of providing affordable retirement housing for the region, those will be easily achieved by any genuine purchaser," says Sandra.
Brian McCandless is the chief executive of Murchison Villas Limited, which evolved from the Fiordland Retirement Housing Trust, a not for profit charity. He explains how the development came about.
"This is a community idea that has been brewing for the past quarter century. People have tried over that period, without success, to convince a commercial developer to build a retirement village in Te Anau. Unfortunately, because we are a small, remote community, with only around 3000 residents, conventional retirement accommodation is not commercially viable.
"As a charitable trust, we have come at this from a different perspective, turning the business model on its head. Because we do not need to turn a profit, we have been able to make this work, and provide the affordable retirement housing Fiordland has lacked.
"With the generosity of Community Trust South, which provided finance at below commercial rates, and the Southland District Council, which donated the land, we have been able to bring a $7 million project to reality, meeting the region's need to house its older residents in a safe, comfortable, affordable and manageable facility," he said.