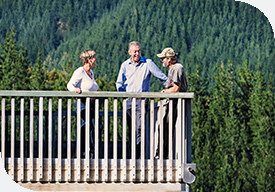 From Olrig to Okaramio
March 2018
Couple moves south after Hawke's Bay property sells for the first time in 158 years
Until late last year, Richard Paterson and his partner, Trudy Burgess, farmed 848 hectare Olrig Station, a renowned Hawke's Bay rural property that had been in Richard's family for 158 years and was the home block of a run that was established in the 1860s, originally comprising more than 11,000 hectares.
Latterly, ownership of Olrig Station was held by Richard and his sister, Susie, while an additional 1600 hectares of the original run, now subdivided, is still held within their wider family. Olrig Station went to auction on 10 November. Although reduced in size from earlier days, it remained a coveted farming landmark as one of Hawke's Bay's largest easy contoured properties, benefiting from significant recent investment in water and reticulation, and featuring a 1906 homestead that qualified as one of the region's bona fide stately homes.

Doug Smith of PGG Wrightson Real Estate, Hastings, marketed Olrig Station, working in conjunction with his colleague, Paul Harper. Doug said the marketing campaign received plenty of attention.
"After six generations in the same family, Olrig Station attracted considerable interest. There was genuine enquiry from about 60 parties, with around 20 of those inspecting the property.
"On auction day, we had a full house, with 80 to 100 people in the room. Bidding started at $8.25 million, and was spirited, with bids from four different parties. In the end, with two surviving bidders, a substantial local farming business with several Hawke's Bay properties lost out to Richard and Rebecca Riddell, a couple originally from Hawke's Bay who were already involved in farming. They will continue to farm sheep and beef on the property," said Doug.
With the sale behind them, Richard and Trudy were ready to take the next step. Keen to move to Marlborough, where they had both lived previously, they were again able to benefit from the same PGG Wrightson Real Estate network that had ensured their satisfaction with Olrig Station's sale.
Greg Lyons of the company's Blenheim office was listing a 234 hectare Okaramio farm, near the Marlborough Sounds, 25 kilometres north of Blenheim, which met the couple's needs.
"They were looking for a change of farming pace. This property featured 30 hectares of well-fenced productive flats, a full range of quality improvements and improved pasture, alongside large areas of native bush and several maturing woodlots.
"Richard's large collection of Land Rovers was well-known. This property also gave him the opportunity to establish a 4WD museum to house that collection," said Greg.

According to Greg, Marlborough rural properties have been highly sought after in the past 18 months.
"Farms of this category are often requested, particularly by North Island farmers like Richard and Trudy. Purchasers are seeking a change of lifestyle and a high-calibre home, while keeping their hand in on the farm. We have had several buyers looking with specific expectations on farm size and mix of options. They are particularly keen to move to Marlborough and enjoy what the region offers, and they are prepared to pay the appropriate value to achieve that.
"From the time Richard and Trudy first visited the property, it was obvious this was what they were looking for and, from that point, putting together a mutually satisfactory transaction with the previous owners, Grant and Gaye Woodman, was a stress-free process," said Greg Lyons.
Richard and Trudy took possession of their new Okaramio property in early February.