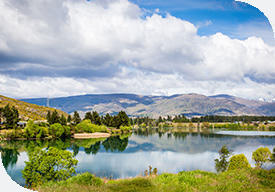 Glory Restored to Grand Old Cromwell Stone Home
December 2017
Amazing harmonious combination of character and contemporary
When Vikki and Ferg Dardis first set eyes on one of old Cromwell's original homes, they overlooked its dilapidated condition, seeing instead its potential, and refusing to be discouraged by anything that stood in the way of restoring it to its former glory.One of the town's pioneers, William Gair, built the house approximately 130 years ago. After arriving from the Shetland Islands in 1878, and trying gold mining and farming before settling to stone masonry, Mr Gair built many of the stone buildings in the older part of Cromwell. William's descendants include former senior politician, George Gair and former Prime Minister, Helen Clark.
View the property: A home with Character, Class and Sophistication
In 2014, when Vikki and Ferg first set out to buy it, the Sligo Street property was still in the Gair family, though needed some TLC.
"By then, it had seen better days. We made our offer, which at the first attempt was turned down. However, around 12 months later, we tried again, and this time managed to buy the house," says Vikki, who along with Ferg is involved in a Cromwell retail business, as well as event management promoting local wine.

Having overcome the first hurdle, they then had to come to grips with the work that was required.
"Over the years, it had been let go, had done time as a party house, and was not in a liveable state. It had a rough lean-to at the back, built as a later addition, which had to go.
"One of the first things we did was take some local tradies around. I remember us all standing out the back, shaking our heads at the magnitude of work required. Our children, Oscar and Jaxon, were horrified at what we had taken on. They didn't like it at all, they thought Ferg and I were crazy.
"We wanted to restore its former glory, while also adding our own stamp to it," says Vikki.
With help from a draftsperson, she put together a floor plan, realising that the project had two separate parts.
"At the back of the house, it was a simple enough new build, while at the front, there was significant renovation required on the old building," she says.
Project-managing the whole thing, Vikki took on a local contractor for the new build, finding various others to work on the renovation.
"Working on anything that old, you don't know what you're getting into. There are always ongoing issues trying to restore an old-style home, and with this one, nothing was straightforward. Restoring the original windows, set in stone, we had to brace it all up in concrete, then create new sills for the windows to go back into," she says, admitting, only half-joking, that the experience "almost broke me."
When the project was finished, however, the home totalled 272 square metres. This includes the 125 square metre extension, which is private from the road, provides secluded outdoor spaces and is where the kitchen and living areas are situated. Meanwhile the bedrooms and bathrooms are in the original part at the front.
"It is very tranquil, and has its own aura. It is so quiet and peaceful inside, particularly the original home with its 500-millimetre-thick walls.
"We do feel we have created a bit of a legacy. With the market the way it has developed, if the property had not sold two years ago, a purchaser now would probably have demolished and completely re-developed the site, rather than saving the old house, so we do feel proud, and lucky, to have been able to do that," she says.
Even Oscar and Jaxon have changed their minds.
"They absolutely love it now," says Vikki.
Alongside her colleague Neil Bulling, Jo Nieper of PGG Wrightson Real Estate, Cromwell, is selling the property, which is listed at $1.35 million. She says the time and dedication Vikki and Ferg have put in is evident.

"This is an amazingly harmonious combination of character and contemporary.
"A stone home built in the 1880s, on a large corner double section across the road from Lake Dunstan in the Old Cromwell precinct. Vikki and Ferg took it on with their own vision, which they have now seen through into reality, restoring the property to its former glory as a magnificently stylish family home.
"This is completely unique. A character home with thick stone walls, leading into a modern addition that blends sympathetically between old and new while incorporating several added features, including a butler's pantry, an office nook, underfloor heating, and a Masport fire. High ceilings throughout maintain the feeling of grandeur typical in a home of this era, while the fully modern kitchen is one any chef would take delight in.
"Positioned to enjoy all day sun, the retractable glass doors open to three separate decked outdoor spaces, including an internal courtyard with its own raised garden bed," she said.
Jo says the 1789 square metre property also has subdivision potential, which could be done without detracting from the home.
View the property: A home with Character, Class and Sophistication