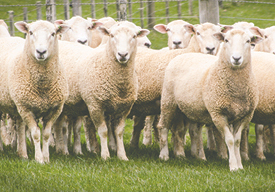 Rural Property Pulse - Good climatic conditions provide positive outlook
January 2020
In the livestock market for sheep and beef, recent activity has been buoyant with animals in top condition and commanding top dollar.
In the sheep and beef sector this spring's livestock market has been buoyant, with animals in top condition and commanding top dollar.
After a climatically slow start to the spring, growing conditions have been excellent, a positive scenario reinforced by the situation in China, where African swine fever has had a devastating impact on pork production.
Pigs are being culled in China at a huge rate, and the country is estimated to be facing a ten million ton shortage of protein by the end of 2019. That will have important ramifications for New Zealand red meat production, which is
well placed to partially fill the gap.
Some informed industry estimates suggest that it will take Chinese pork producers 15 to 20 years to fully recover from the epidemic. That presents the New Zealand red meat industry with a chance to become permanently
established in China at a more substantial level than previously, offering an alternative protein that Chinese consumers are likely to acquire a taste for.
Vietnam, the Philippines, North and South Korea, Laos, Myanmar and Cambodia are also struggling to contain the disease, which has reportedly reduced China's pig herd by almost half in the last 12 months. This global situation is helping drive demand for lamb, mutton and beef.
In December focus will shift to the store cattle market. Where previously farmers were taking a selective approach around beef types with the improved outlook, the net is wider with beef and dairy cross cattle all well sought after.
Clearance rates through the dairy bull season were satisfactory, particularly with extra bulls to sell, though values were down slightly on last year.
Ram sales commenced in the North Island at the end of October, continuing into the new year. Early sales reflected confidence, with farmers prepared to re-invest in animal quality, ensuring they can supply product that meets consumer requirements.
Early sales included Waimai Romney, Te Akau, where all 80 rams offered were sold, averaging $2890, with the top lot selling for $5400; Nikau Coopworth, Waikato rams averaged $2059 for a top price of $4000; at Grassendale, Wairarapa Beltex Suftex cross rams achieved a total clearance at an average of $1613 per head; and at the Mana Romney, Gladstone on-farm sale 30 out of 32 rams sold, averaging $1550 with the top ram fetching $3000.
While the dairy livestock scene is less buoyant, positive global dairy trade trends provide encouragement for this season's payout. Unexpectedly strong interest is already showing in forward contracts on herds for May and June delivery. Farmers seeking quality need to be in early to secure the best. Export heifers exiting the country for China in high numbers may have repercussions later in the season resulting in low stock availability, justifying early action. Additionally, dairy beef is a big focus approaching the summer. Sales of 100 kilogram weaners started well in the North Island, with early indications that trading levels will track last year's sales, boosted by positive beef schedules.
PGG Wrightson's 'Go' credit products, funding client livestock trading, continue to be well received, easing cashflow by enabling sheep and beef farmers to buy, finish and onsell stock before paying for them. Meanwhile, the
company's wholly-owned new Bidr business, providing those trading livestock with access to a virtual nationwide saleyard, is also building momentum and achieving positive results bringing buyers and sellers together.
This report was prepared in consultation with PGG Wrightson's Livestock team.