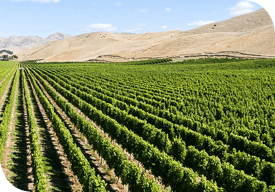 Harvest Generally Favourable for Growers in all Sectors
June 2019
Growers generally experienced a satisfactory harvest, with activity diminishing as autumn progressed. Drought conditions during a large part of the summer in various regions posed challenges in several sectors, particularly grapes, though those with reliable water for irrigation were rewarded with an adequate crop.
As autumn drew to a close, growers in all sectors began preparing for the upcoming growing season, while keeping an eye on export market returns. In most cases these are encouraging, particularly for kiwifruit. Zespri reported a record operating revenue of $3.14 billion for the 2018/19 season, as strong international demand, coupled with growth in both the volume and value of kiwifruit last season, is driving the fruit's enduring success. Zespri shareholders are expected to earn total dividends of $0.92 per share in the 2018/19 financial year, compared to $0.50 in 2017/18.
Earlier, Zespri's annual allocation of licences to grow its lucrative G3 Sungold variety was substantially over-subscribed.
Mild autumn conditions helped progress developmental work for further planting of a number of permanent crops, including avocado, cherries, apples and grapes, across regions from the Far North to Central Otago.