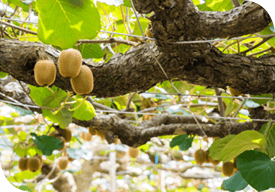 Heartbeat - Over-subscription of Kiwifruit Licences Indicates Sector's Strong Investor Appeal
June 2019
Zespri's 2019 process granting its annual quota of new licences to grow the lucrative gold kiwifruit variety signals the strong attraction the saector has for investors.
Successful growers committed more than $200 million to the new licences. However, a substantial sum of potential investment was returned to unsatisfied growers unable to secure any of the 2019 quota of licences, possibly amounting to as much as $300 million.
Zespri notified in early May that it had issued new licences to grow 700 hectares of gold kiwifruit and 50 hectares of organic gold kiwifruit for the 2019/20 growing season. With a total of 750 hectares of licences available, applications totalled 1848 hectares, meaning the offer was almost two and a half times over-subscribed. Approximately 54 per cent of the allocated licences are for new developments. Growers paid a median price for the licences of $290,000 per hectare, plus GST.
Many, and in particular the larger growers, were planning to add significantly to their current operations. However, it appears that most of the new licences have gone to smaller developments. Those larger operators are growing green kiwifruit, planning to cut them over and graft the vines with the gold variety. As they have not received licences, they will need to wait another 12 months to implement their plans, and will likely bid higher to secure the 2020 licences.
Premium orchards already growing gold kiwifruit are currently selling for $1.2 million per canopy hectare, while the most heavily producing green kiwifruit properties are selling as high as $500,000 per canopy hectare. Depending on locality, bare land blocks suitable for kiwifruit development in the Bay of Plenty are valued from $200,000 per hectare up.
Winter is usually a quiet time for kiwifruit property transactions. With such strong demand evident through the licencing process, once increased sales activity resumes in the spring, the $1.2 million per canopy hectare benchmark price is unlikely to soften.