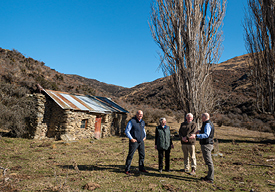 Property Express - High country heritage
October 2019
Historic Central Otago high country station presents multiple options.
An historic Central Otago high country property with a proven record of fine wool production, outstanding views and more than 150 years of heritage is for sale.
Happy Valley Station is 16 kilometres south of Cromwell. Comprising of 2266 hectares in five titles, it has been in the same family since 1946, when Duncan Henderson's parents Colin and Lillian purchased it, as he explains.
"My father had returned from the war, which he spent in the army in Egypt. They purchased the property from a family named Crombie, though at that stage the place was seriously run down. Apparently the previous owners had mainly made a living catching rabbits, selling the skins and meat to a rabbit processing factory located in Cromwell.
"Prior to that, the farm had originally been part of Kawarau Station, acquired by the Australian and New Zealand Land Company in 1858. Then, when gold was discovered in Cromwell in 1862, the district and the property became the site of considerable prospecting and mining activity and the remnants of a large area of old workings is
still evident around Duffers Creek area on the property," he says.
Several different claims were worked and there are records of people living until 1874 in an historic stone hut that still stands on Happy Valley Station. In the late 1890s Chinese gold miners took over the local claims, mining the Duffers Creek area of the farm until 1910.
That was the year the Liberal policy of subdivision of the large runs came into effect. After the Kawarau lease expired it was not renewed and Kawarau Station was subdivided into 16 smaller holdings of which Happy Valley Station was the smallest. As the runs were readily taken up, in some cases ballots were necessary to decide the successful applicants. Run 339c, called Happy Valley, was taken up by the Crombie family who farmed the property until May 1946 when they sold it to the Hendersons.
By the time Colin and Lillian bought Happy Valley Station it was not considered good enough to warrant a government loan, which in those days was available to help returned servicemen obtain their own farms.
Although they still managed to raise the funds to complete the purchase without state assistance, rabbits continued to dominate the property and it was tough going for the first few years.
"My parents struggled for those early years, then in 1952, the Korean War started, wool prices took off and along with every other sheep farmer in the country, the family's fortunes turned around.
"My parents were able to consolidate. Upgrading the private irrigation scheme, which had been taken up in 1910 by the Crombies, was a priority for my father. That used an existing water race established in late 1860s to take water to Bannockburn for gold mining. Since 1910 irrigation has been the lifeline of the property. This enabled them
to produce winter feed and finish stock in the paddocks, which worked out well and increased the farm's prosperity.
"With the lack of cover on the country due to rabbits, the threat of thunderstorms which occurred most years, caused havoc to the water races. Rabbit control and oversowing helped stabilise the land," he says.
Rabbits continued to threaten their viability periodically, depending on what national or community control measures happened to be in place.
In 1973 Duncan and wife Rae took over the farm. Duncan had spent several of the preceding years working for Jack Sanders and his son Alec on Matangi Station where he experienced first hand how to profit from merinos. They ran a merino stud alongside a commercial flock of sheep at Little Valley, near Alexandra. Matangi Station remains in the
Sanders family.
"We have had rams from the Sanders and their Matangi Station merino stud for over fifty years, breeding out the fine merino/romney cross half breds my father ran, into a pure merino flock.
"With the way fine wool prices have gone in recent years, and are likely to continue, that has fully paid off. Prospects look really good. We have signed up contracts for the next three years with Merino New Zealand, supplying our wool to Italian suit makers, among others," he says.
A strategically located stockwater pond in the Station's high country tends to be frozen during the winter providing the
opportunity for four to six weeks of curling on it every year on up to 120 millimetres of ice.
After four and a half decades on the farm, children overseas, grandchildren in Marlborough, and now both in their 70s, Duncan and Rae are looking for another direction in life and have decided to sell Happy Valley Station. They have engaged Shaun O'Docherty and Mike Direen of PGG Wrightson Real Estate, Alexandra to market the property. Shaun says such farms are rarely made available.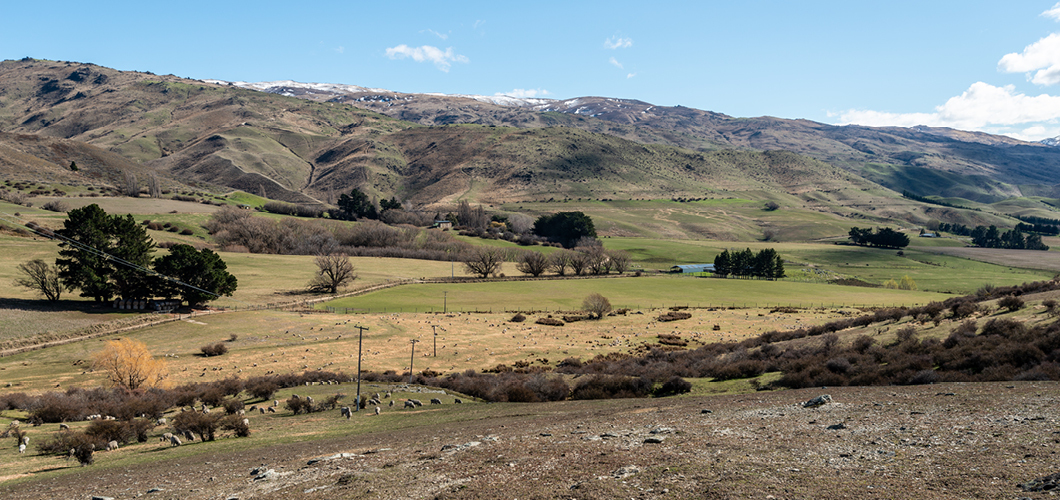 "This is a quintessential Central Otago hill to high country property, well suited to cattle, deer and merinos, with proven performance in the production of fine wool. It ranges from 500 to 1300 metres above sea level and carries 3000 stock units, presently comprising 1500 merino ewes, 900 merino wethers, 700 merino hoggets, 40 cows and 80 hinds. It has 16 hectares in Lucerne, with the balance in pasture and natural cover and has produced approximately 400 round bales per annum of a mix of meadow hay and Lucerne. For irrigation the property has a permit to take 300,000 litres of water per hour from Bannockburn Creek.
"Happy Valley homestead, built in 1914 and extended in 1975, is a wonderful historic stone stacked four bedroom home, in good repair, sitting on landscaped grounds that have been lovingly tended over the years. These include a heritage rose garden and an array of mature trees and plantings. A large workshop is located near the home.
"As well as its present use, other options include further subdivision for lifestyle properties or extending the opportunities for recreational use such as hunting. Cherries and grapes are both grown locally and could offer
further scope," he says.
Tenure review was completed on the property in April this year, and Happy Valley Station has been subdivided prior to sale, giving potential purchasers multiple options. It could sell as a single entity and be taken on as is, or the Hendersons will consider separate offers for the five different titles, which are:
• the 2126 hectare hill country block;
• the 4.5 hectare homestead block;
• a 35 hectare dry land block with exceptional views, suitable to add on to existing operation or build on for use as
a large lifestyle property; and
• a 98 hectare paddock block which includes most of the farm buildings including shearing shed and yards, a
deer shed, a killing shed, three hay barns and additional building platforms;
• a 4500 square metre elevated section with a two-bedroom open plan cottage commanding outstanding views.
Happy Valley Station is listed for sale by private tender with offers sought by 18 December.
To read more this property go to page 84 of the Property Express magazine by clicking here.