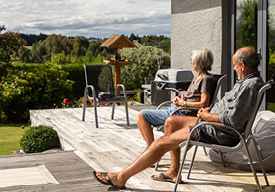 Lifestyle Collection: Couple leaving behind an idyllic Fiordland 'Shangri-La'
February 2021
In 2011 Terry Cayford retired as principal of Te Anau school after 17 years, while his wife Liz teaches secondary school in Invercargill.
They moved to their idyllic lifestyle property, Whitestones, which combines a deer farm with a B&B, in 1996.
Now the property has been sold, by Peter Lewis of PGG Wrightson Real Estate, Te Anau, and the Cayfords are ready to move on. Living at Whitestones has been idyllic, as Terry describes it: a Shangri-La.
"It's been a peaceful place to live, and also to host friends and family. We feel we are living in a 28 hectare garden. In the first few years after moving here we planted a few thousand trees. As those grew the gardens around the house enlarged year by year, ensuring we have the most amazing dawn chorus, which doesn't stop at dawn, but keeps going all day, with bellbirds, tui, wood pigeons and others singing their hearts out," he says.
Deer farming was an obvious choice for Terry, a helper on a deer farm in his younger years. As a keen hunter he greatly admires the animal.
"At most we had 90 to 100 hinds, with two breeding stags. We keep the progeny for about a year, then start the process again. If we had been a bit more driven we could have carried more stock, though because we had more trees, couldn't undertake regular re-grassing. Having some land in trees reduces carrying capacity, though that didn't worry us one iota.
"This is not a big economic farm, we didn't want that: the financial benefits were certainly outweighed by the lifestyle benefits of living here," he says.
After their daughters Hannah and Caitlin left home to attend university, Terry and Liz were left with a big modernised home with four large bedrooms and three bathrooms.
"We decided to turn it into a high end B&B, which has been a success, thanks to Liz's business skills. Visitors are mostly European, with a few from Australia and America. We had pages of bookings for the current season, though they have all cancelled, of course.
"Visitors appreciate the simplicity and calm of what we created. There is nothing like it. Some have been happy to be at peace in our garden, not going to Fiordland's sights such as the lake and the National Park. They are happy in peace under a tree, in silence, apart from the birds.
Since retirement, Terry has kept busy guiding tourists, now mostly New Zealanders of course, around Fiordland's many attractions.
"Kiwis are amazed at what Fiordland has to offer. We have groups from Auckland, for example, going into Milford Sound with their eyes popping out at the Alpine Section. I hear comments such as 'We've travelled internationally, to the likes of Austria, France and Switzerland. We didn't know we had it all right here at home.' These mountains are just the same, only on a different scale. We see kiwis wishing they had spent more time in Fiordland, rather than the rest of the world. Like the old TV ad said, 'Don't leave home 'til you've seen the country."
Terry and Liz leave Whitestones in March.
Read the full edition of the Autumn Lifestyle Collection here