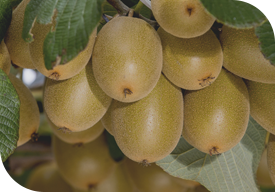 Kiwifruit - Set for geographical expansion
March 2019
Kiwifruit sector set to expand into non-traditional districts
Expansion of the kiwifruit sector, and the associated land use change, is a growing trend in the rural property market, potentially impacting on various North Island districts.
Stan Robb of PGG Wrightson Real Estate, Te Puke has marketed hundreds of millions of dollars worth of kiwifruit property since 1990. He has seen the sector negotiate the challenge of the Psa virus, and respond to recover to the current confident position it holds, where many orchardists are generating returns on investment that he estimates range from 10 to 15 per cent per annum.
"Zespri is issuing licences to grow 750 hectares of additional gold kiwifruit per annum from now until 2022. That is an excellent opportunity that growers and investors are motivated to make the most of. Much of the resulting expansion will be achieved by converting green kiwifruit orchards, particularly in the Bay of Plenty. However, new development blocks are also in demand, which will mean geographical expansion.
"Existing growers investing outside their traditional patch is one way to meet that demand, bringing their skills, the sector's infrastructure and the economic weight of large specialist businesses into regions that are relatively undeveloped for kiwifruit," he said.
As part of the trend, Stan and his son Chris, who work in partnership, recently marketed a 9.86 hectare gold kiwifruit orchard at Haumoana, near Clive, in Hawke's Bay, which was purchased in early February for $10 million by a Bay of Plenty-based investment entity with kiwifruit interests. While premium standard, optimum altitude Te Puke gold kiwifruit orchards are changing hands for $1.2 million per canopy hectare, the Haumoana transaction was the first outside the traditional kiwifruit heartland of the Western Bay of Plenty to sell for $1 million per canopy hectare.
"The Clive property we have just sold produces around 14,000 trays per hectare and is located in an early start area. To sell at this value, such a distance from the main kiwifruit producing region, indicates the sector's strong confidence and the limits to growth closer to Te Puke," he said.
Meanwhile the Eastern Bay of Plenty and the Rangitaiki Plains in particular is shaping as another region that could help meet the demand for new kiwifruit development.
Phil Goldsmith of PGG Wrightson Real Estate, Whakatane says the district has excellent soils, an ideal climate, and suitably sized land parcels that are attracting investors.
"The Rangitaiki Plains is a lowland of about 40,000 hectares, bordering the Bay of Plenty coast from Whakatane to Matata, extending inland for up to 20 kilometres. Soils comprise drained peat swamps, plus flood plains with a mix of pumice and greywacke alluvium silt.
"Presently mainly in dairy, parts of the district have seen several changes of land use since settlement. While some dairy farmers are reviewing their options, and considering diversification, not every property will suit horticulture. However, some land use change is occurring, with more likely," he said.
Phil Goldsmith says investors are looking at the Rangitaiki Plains to meet the demand for land capable of growing kiwifruit.
"We are in the process of selling a 44 hectare Awakeri dairy farm, which is all flat, on fertile land and suitable for horticulture development. Interest in this property indicates that it will likely go into kiwifruit. It is a generous size for horticulture and will deliver excellent scale. There are several other similar transactions nearby, of 20 and 40 hectare blocks. Where the soil and drainage is suitable, and subject to water consents, more transactions of similar Rangitaiki Plains properties are likely.
"Where these properties have most recently been used for dairy, horticulture investors are prepared to pay a generous premium based on the prospect of land use change. Values of bare land for kiwifruit are rising, with demand well documented. For local dairy properties, values last season sat between $55,000 and $60,000 per hectare, which is substantially below the value investors are prepared to pay for blocks suited to kiwifruit or other crops.
"With figures like that, where the soils and water will support it, land use change is going to occur. The Rangitaiki Plains will continue as a significant dairy area, though increased diversification is likely. A proposed 40 hectare blueberry development is also in process locally, so there are additional horticulture cropping options," he said.
Rex Robb of PGG Wrightson Real Estate, Kerikeri believes his district is also well placed to expand on the estimated 380 canopy hectares already growing kiwifruit.
"We have had transactions of up to $850,000 per canopy hectare for Kerikeri orchards that produce 15,000 trays per hectare. Growing here does provide orchardists the potential to harvest earlier, which can earn around an extra $2 per tray, and local orchards do seem less susceptible to Psa than they are further south.
"Added to that, Kerikeri is fortunate to have two big irrigation dams, dating from the 1990s, servicing kiwifruit growers and the town water supply, with another six potential dam sites also identified to expand into. If that eventuates, several blocks in the district, including iwi blocks, have potential for kiwifruit development," he said.
Stan Robb sees additional potential for kiwifruit elsewhere in the North Island, though cautions that there will be pitfalls and limitations around expansion.
"We already have some areas in Waikato successfully growing kiwifruit, as well as pockets of South Auckland, North Auckland and Gisborne. There is a large, beautiful orchard in Te Awamutu, and Whanganui was actually the first place in New Zealand to grow kiwifruit, so theoretically there are many possibilities to add new regions to the sector.
"However, challenges include the level of certainty you will need to be able to set up a new orchard that will produce year in year out, and pay back the initial outlay. In attempting to do that, you also need the access to kiwifruit infrastructure, including packhouses, labour and contractors, all of which is necessary to keep the business viable. Critical mass and bold investment is required to support all that. Those things do not just happen overnight. They are a more gradual process," he said.