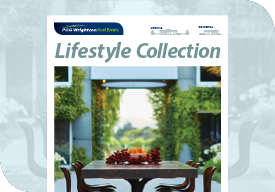 Lifestyle Collection Autumn 2019 - Just Released
March 2019
If you're looking to bring rural style into your life, then you may find a stunning property here just a click away. This magazine has it all – pages of great lifestyle and residential properties across the country and interesting articles on rural lifestyle living.
This autumn's Lifestyle Collection is just released, showcasing lifestyle and rural residential properties currently on the market. With one of Marlborough's finest modern homes – Bhudevi – on the market, prepare to be impressed!
The property has the wow factor with 1.5ha of organically cultivated gardens, rated regionally significant by the New Zealand Garden Trust. There is also a six canopy hectare organic sauvignon blanc vineyard, a superior home, and three appointed one bedroom studio apartments which can be utilised as guest accommodation. Take a look at the story on page 47 of the magazine or view the property here.
Lifestyle Collection is distributed in both printed copies and electronically, reaching a wide range of potential buyers. This well-read quality publication is also distributed via our 36 branches and 29 satellite offices nationwide.
◰ View the Lifestyle Collection e-magazine
☎ Contact one of our offices today for a physical copy