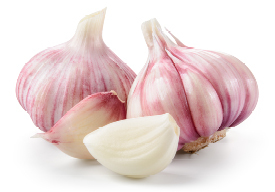 Lifestyle Collection Autumn Top Tip - Garlic Rust
February 2020
Garlic Rust
In recent years Kath Irvine has tackled garlic rust, a fungal disease which hits mid
spring. Here Kath shares the techniques that assist her in managing the disease.
Garlic rust is a fast spreading fungus. It presents as raised, orangey spots covering the foliage. Rust results in the bulbs having limited growth, although they are still edible.
One important point to note is that rust spreads quickly and easily from plant to plant, particularly in wet, mild weather.
Ways to prevent garlic rust
Separate susceptible crops:
Plant alliums (such as chives, leeks, onions) as far from each other as possible. If rust shows up in perennial alliums you may want to remove them from your garden to prevent them infecting other plants.
Healthy soil:
Free draining and/or nourishing soil is key. Heavy clay (wet feet) and likewise poor sand (too dry) are most susceptible.
Space well:
Rust is minimised with good air movement hence Kath's advice to plant 30cm apart.
Use mulch:
Such as ramial woodchips (mulch made from deciduous trees) as it provides soil with lots of nutrients and energy.
Sound nutrition:
Limit the nitrogen in your garlic bed as it feeds rust, so don't overapply.
How to fight rust when it hits
Act immediately! Trim off infected leaves on a fine day (the warmer the temperatures the better). The key is to check daily and trim off the infected foliage as it appears which will hold back the spread of rust. Be careful when removing infected leaves from your garlic crop to minimise spores being dispersed onto healthy plants.
Kath Irvine is a permaculture designer and has been designing and managing edible gardens since the late 1990's. Passionate about growing food and good design, Kath runs workshops from her Edible Backyard. Go to http://www.
ediblebackyard.co.nz/ for more info.
View the latest issue:
The Lifestyle Collection - Autumn 2020
Contact us today for a printed or downloadable version.