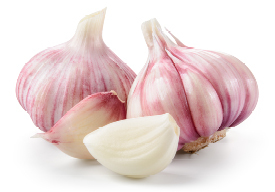 Lifestyle Collection Autumn Top Tip - Growing Garlic
February 2020
Growing Garlic
Garlic is one of Kath Irvine's favourite crops, having been a garlic grower for more than 24 years. Here Kath shares her knowledge on how to grow glorious garlic.
When to plant:
Plant garlic in autumn so when diseases such as garlic rust become prevalent, the bulbs are already a good size.
Good drainage and quality soil:
If you have heavy soil in your garden plant garlic in pots or make a mound and plant into that. Depending on soil health, garlic may benefit from adding a layer of compost (2cm deep) as the soil needs to support the crop for six months.
Rotate:
Garlic is a hungry plant so don't grow after a heavy feeder or three years after any of its oniony relatives.
Positioning:
Plant garlic 30cm apart, with the tips of the bulbs level with the top of the soil. Make your rows 20cm apart. Mulch to retain moisture and minimise weeds.
Weed:
Pull weeds from your garlic bed frequently, as if left to grow, they will steal the nutrition meant for your garlic. Weeds also block light and air encouraging rot and fungus.
Feed:
Kath recommends using seaweed feed once a month.
Harvest and cure:
Knowing when to harvest, Kath says, is the key to producing juicy and long living garlic. Check the top of the garlic: when the tops begin to dry, it's a sign it's harvest time. Dig up a bulb to check and continue this process until your bulbs are beautifully formed. Note, once the tops are completely dry the garlic is past its prime so harvest before then.
Harvest garlic on a dry day, gently rubbing the bulk of the dirt off the bulb, leaving the skin intact. Hang in small bunches in an airy, dry place out of direct sunlight. Once dry, lightly trim the roots and either plait or trim the tops. Avoid removing too much skin as the more protected the bulbs, the better they'll store.
Kath Irvine is a permaculture designer and has been designing and managing edible gardens since the late 1990's. Passionate about growing food and good design, Kath runs workshops from her Edible Backyard. Go to http://www.ediblebackyard.co.nz/ for more info.
View the latest issue:
The Lifestyle Collection - Autumn 2020
Contact us today for a printed or downloadable version.