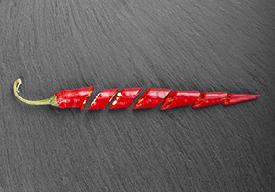 Lifestyle Collection Autumn Top Tip - Summer heat produces hot chillies
February 2020
Having planted and grown your chilli plants over the spring and summer, you'll still be
enjoying their harvest going into autumn, with the plant fruiting multiple times. Here,
NZ Gardener magazine provides helpful hints on growing your own chillies which
come in a spectrum of colours, sizes and degrees of hotness. Find the variety that
satisfies your taste buds!
Chillies love the heat so the plants can be tricky to grow in New Zealand. Choose varieties with a shorter growing season so they have finished fruiting by the time the cooler weather arrives.
NZ Gardener recommends varieties to grow if you're in a cooler climate and ones to avoid:
AVOID: habanero, tabasco and rocoto.
RECOMMEND: Early jalapeno, Hungarian yellow wax, hot cherry, cayenne and Thai super chilli F1.
Top Tips
Each plant fruits multiple times over a season and this can be further encouraged by picking immature chillies as they can be eaten before they are fully ripe. Remember to cut (as opposed to pull) chillies off the plant as this also aids the plant to fruit again.
Chillies can be kept in the freezer so no need for wastage. Freeze either as a whole or larger chillies can be de-seeded and frozen as strips.
Growing chilli plants in a pot
Sow chilli seeds from September to October, transplanting them to a sheltered spot in October or November. Chilli seeds take a couple of weeks to germinate and are usually ready for transplanting four to six weeks later. Flowers should appear a couple of weeks after transplanting with pods gradually growing from the centre of the flower until they reach full size.
You can also purchase nursery-grown seedlings. Fertilise the seedlings with a high potassium fertiliser such as those
formulated for tomatoes. Large pots are best and potting mix suits chilli plants as it is warmer than soil in the ground.
Pots enable the plants to be moved around your property, locating them in the sunniest, most sheltered positions.
If you have one, a greenhouse or tunnel house can home your pots too, protecting against bad weather.
Chilli plants don't need to be grown from seed every year. Just remember to bring your plants indoors or under shelter during the winter so they stay warm and frost free.
Growing chilli plants in soil
Chilli plants can be grown in soil but require protection from cold weather. Place a circle of clear plastic pinned to stakes around the plant for additional warmth and shelter. The best protection for your chillies would be to grow them in soil, inside a greenhouse or tunnel house.
NZ Gardener is packed with practical information and features inspiring gardens from all over New Zealand. Subscribe at mags4gifts.co.nz/nz-gardener.
View the latest issue:
The Lifestyle Collection - Autumn 2020
Contact us today for a printed or downloadable version.