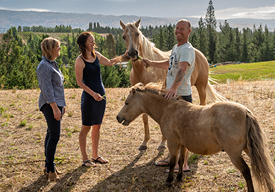 Lifestyle Collection - Fifteen year dream of a Forever Home comes true
February 2020
When Anna-marie Gilmour was growing up on her parents' Alexandra lifestyle property in the 1990s, a cute rustic cottage nearby in Letts Gully caught her imagination.
"As I watched the property develop I had a special feeling about it, thinking: 'Wouldn't it be amazing to live there one day?' Then around ten years ago, it came on the market. I went for a look, which made me fall even further in love with it," she says.
Although not able to buy, Anna-marie did meet Jo Priebee of PGG Wrightson Real Estate, Alexandra, who was selling the house, and they became friends.
"Jo had owned the property herself previously, when she moved to Alexandra in the early 2000s. She extended the original tiny cottage. Later, with her husband John, they developed the land and put a second cottage on the property," says Anna-marie.
When Jo marketed the property again in October last year, Anna-marie's life had moved on. Now married and working as a veterinary nurse in Cromwell, she believed this was her time.
"My husband Kerry and I have been together for about four years. We often drove past the house, and I would tell Kerry how much I loved it.
"After being interested in it for over 15 years, this time we were able to buy. We have similar tastes and when I took Kerry for a look, fortunately he loved its charm too. We put in an offer, which was accepted, so the way it has finally worked out is perfect," says Anna-marie.
Jo Priebee describes the cottage as peaceful, oozing charm and ready-made for a tranquil lifestyle.
"You can relax under the sunny veranda to the sound of the creek meandering its way to the pond below. With cosy living and a cathedral tongue and groove recycled kauri ceiling, other features include stained glass and leadlight windows, kauri doors, sash windows and recycled copper toilet cisterns" she says.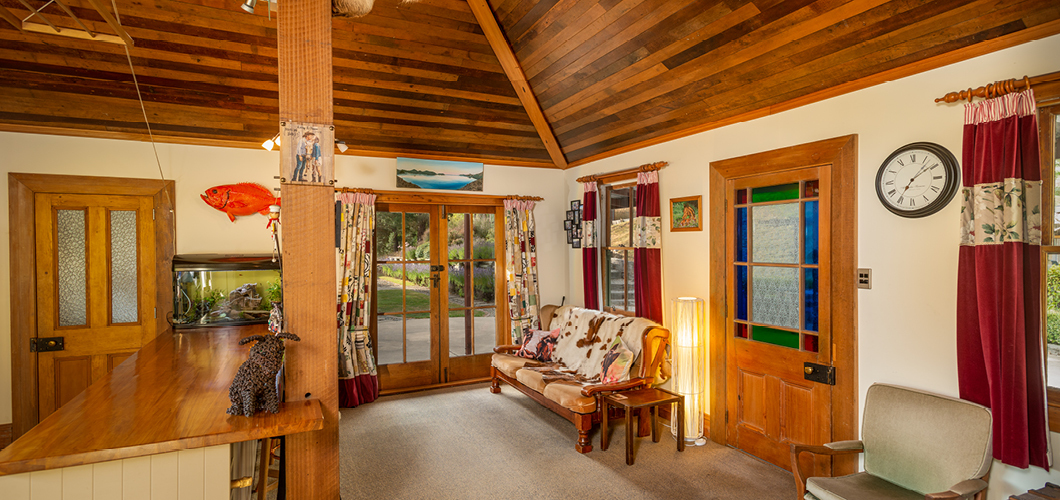 Since they moved in late last year, the house has fulfilled all Anna-marie's dreams.
"We didn't need to do much for it to totally suit us. Our previous house, in Cromwell, was a 100 year old villa, so there was always maintenance needed. As Kerry is a builder, that wasn't such a problem, except we grew weary of it. Though this house still has huge character, because it is much newer it doesn't need anywhere near as much work.
"Although we enjoyed our house in Cromwell, it was never our forever place. After just a few months, we already know this house is, and we are looking forward to spending many happy years here," she says.
That happiness will feature horses. Anna-marie has always been a keen rider, prompting Kerry to develop an interest too. Now, with four hectares, they have room for their three horses, plus a few sheep and their kelpie Winnie. An ideal weekend features the couple exploring the hills around Alexandra, perhaps with Kerry also taking the jet boat
out on the lake to fish.
"Anything outdoorsy is what we're into," says Anna-marie, and at Letts Gully, after a long wait, her expectations have been met, giving the couple the perfect base for their chosen lifestyle.
To read more of the Lifestyle Collection magazine by click here.
View the latest issue:
The Lifestyle Collection - Autumn 2020
Contact us today for a printed or downloadable version.