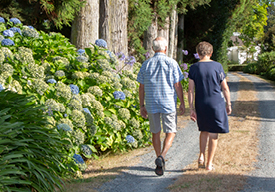 Lifestyle Collection - 'Redwoods' Grand old lady refurbished and ready for her next chapter
February 2020
In the mid 1990s David and Pam Bryant, who were farming on Waikato's west coast, decided to sell their much loved Te Akau property to move closer to Hamilton.
David had farmed since he was 15, says Pam, including a six year spell as a shearer. During that time he saw too many older farmers staying on the land too long. "While we thoroughly enjoyed farming, we wanted to move on while we were still young enough to enjoy something else. Our children had left home, so the timing was right," she explains.
After selling the farm they spent 10 months camping in a small farm cottage, chasing every possible option for a new home, before coming across a 6.5 hectare property in Newstead, eight kilometres east of Hamilton.
"As the real estate agent took us down the drive, I looked across at David and said: 'This is it, I can feel it,'" says Pam. Although the house appeared in a sad state and the garden worse, a beautiful stand of large redwoods instantly appealed to the couple.
"She was a farmhouse built in the 1920s, solid as anything, tall and gracious, with no structural defects. All she needed was some TLC and a wee bit of hard work." With plenty of that to give, David and Pam waited 18 months before doing anything more than cleaning and growing accustomed to the way the Newstead seasons change. "We tackled the garden first. I dug new flower beds and planted, while David fenced the property and prepared the pastures for our beloved sheep. "Inside, the house was a blank canvas. Every room was in a state of disrepair, with assorted carpets on every floor and different strips in the doorways. It was a hotchpotch. New curtains and carpet made a huge difference, with the beautiful wide floor boards beneath, and the high ceilings providing an extra spacious feel.
"As a typical old farmhouse, the laundry was on the sunny side, with the kitchen opposite, so we swapped them over," she says.
Refurbishing took nearly four years. Meanwhile, Pam started a catering company and David kept busy trading and farming sheep. Named after the trees in the home paddock, 'Redwoods' embraced David and Pam, and their children Stuart, Alice and Belinda on frequent family occasions.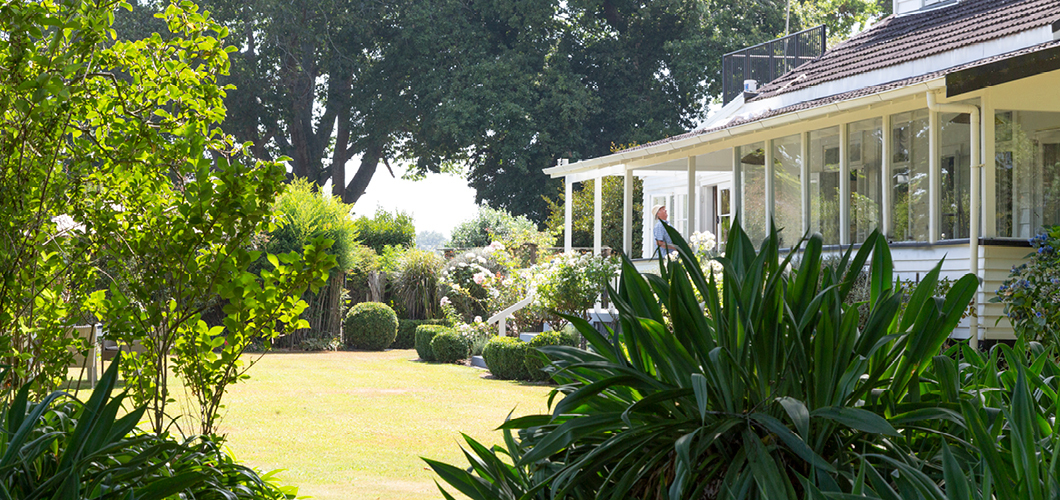 "We enjoyed creating many happy memories. We hosted two 21st birthday parties and both our daughters' weddings. Marquees fit the gardens perfectly, and it was magical dancing to a band after midnight on the lawn. With the sides of the marquees up and the gardens reaching in, floral arrangements were minimal.
"We hosted many Christmas lunches and dinners on the lawn, beneath large umbrellas or under the stars, as well as croquet parties and pétanque, while the diving board over the pool is regularly in use," Pam says.
After 25 years, the Bryants are ending their tenure, aiming to move into Hamilton. They have engaged Angela and Russell Thomas of PGG Wrightson Real Estate, Hamilton to market 'Redwoods'.
Angela says it is a house to come home to. "From the minute you enter, the house wraps itself around you and wants you to stay. Inside and out, the glassed veranda along the front begs you to sit in the cane arm chairs, drink in hand, looking out over the gardens, croquet lawn and pool. Lush green paddocks surround, and sheep graze quietly by.
"David and Pam have enhanced its history, turning 'Redwoods' into a warm, stylish family home, set in outstanding easily maintained grounds.
"She is a grand old lady, dressed in her finery, waiting for life's next chapter," she says.
To read more of the Lifestyle Collection magazine by click here.
View the latest issue:
The Lifestyle Collection - Autumn 2020
Contact us today for a printed or downloadable version.