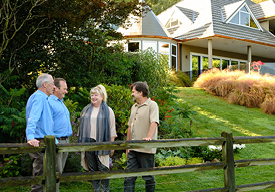 Lifestyle Collection - 'The Brook' Couple's surprising move from Melbourne becomes new Otago adventure
February 2020
Six years ago interior designer Jacqueline Hadley-Warring and her husband David, a software developer, were living on the rural outskirts of Melbourne, in the Dandenong Ranges near the wine growing Yarra region.
While Jacqueline is originally from England, Wellington-born David fancied returning home to live. As she explains, although Jacqueline had never been to the South Island, when they began seriously researching the idea, she became more enthusiastic than David.
"We started looking online at property, and I quickly became totally addicted to it. I flew out to view a property in Alexandra by myself, and realised the South Island scenery is breathtaking. I went back to Melbourne and was quite emotional with David because it was so beautiful. I told him we must go to the South Island," she says.
"She was almost cross that I had been keeping a secret from her," says David. As their search intensified, they found a property in East Taieri: 'The Brook', just out of Mosgiel and 18 kilometres west of Dunedin.
"We flew into Dunedin for a look and the house is only a few minutes' drive from the airport. As soon as we turned in the gate, I said to David: 'We will buy this.'
"Just seeing the driveway, the landscaping, all the beautiful trees, it was stunning and surpassed our expectations. This is the one. We just decided, immediately," says Jacqueline.
While their Australian friends were somewhat taken aback, and thought the change would be major, David reckons that is not the way it turned out.
"That's the ironic thing. People thought this would be a huge change. Actually it isn't. We both work from home, and have done for years, so lifestyle property is really important to us: it's something we understand well.
"We need to have privacy, though also accessibility. We both continued to work. I travel regularly to Wellington, and because the airport is so near, that is easy. Being here is virtually the same as when we lived in rural Victoria," he says.
"We have an excellent work-life balance. Looking after a lifestyle property keeps us active, though doesn't detract from our jobs, and we both find it easy to focus our efforts on work," adds Jacqueline.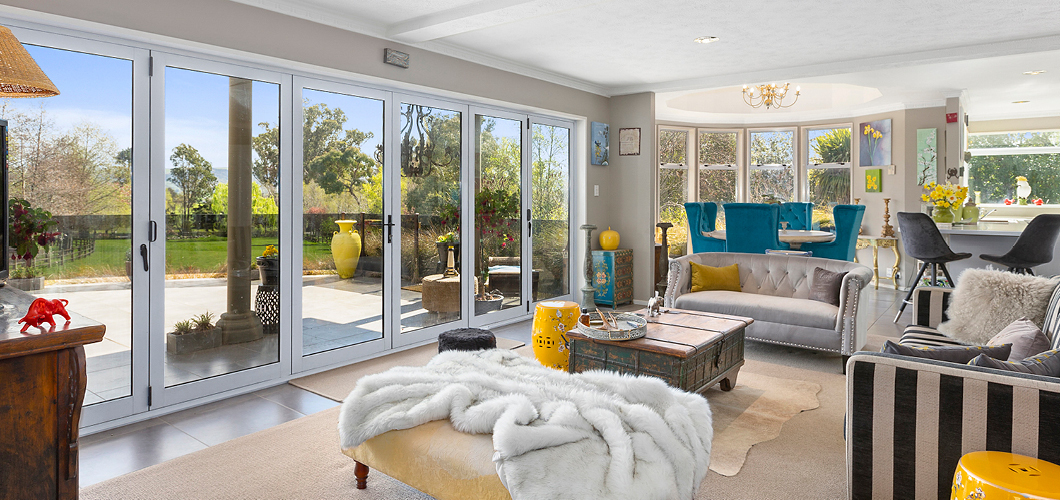 Moving from a city of around five million to one just a fraction of that size also worked out well.
"We have found Dunedin great. It is a university city, so lively: a cool small city. It has plenty of theatre, music, and everything we enjoy. It is like the best bits of Melbourne, condensed," says Jacqueline.
They planned to stay at 'The Brook' for several years, entertaining in the all day sun on the large north facing terrace, tending the horses and alpacas, planting trees and enjoying the garden, which they have worked on with huge pleasure, benefiting from a microclimate they contend keeps East Taieri three or four degrees warmer than Wellington, not to mention Dunedin. Jacqueline's interior design flair and renovation skills turned the stables into a self-contained flat to complement the stylish five bedroom home.
However, last year Jacqueline's fascination with property uncovered an alternative gem too tempting to pass by: 'Lambourne' at Clydevale, South Otago, a gracious two storey homestead dating from approximately the turn of the century, recently subdivided from a large farm. With a regal staircase, sash windows, kauri and rimu fireplaces and an extensive veranda upstairs and down, 'Lambourne' was listed for sale by Stewart and Jason Rutter of PGG Wrighston Real Estate, Balclutha. When Jacqueline and David made an offer on Lambourne, it was conditional on them selling 'The Brook', which they did, quickly and easily, via Roger Nicolson and Paul Thomson of PGG Wrighston Real Estate, Dunedin.
"Although moving wasn't on our 'to do' list, the prospect of 'Lambourne' is an enticing new project. We are looking forward to Central Otago and the Catlins being more accessible, too. It is a big new adventure
that we are really looking forward to," says Jacqueline.
To read more of the Lifestyle Collection magazine by click here.
View the latest issue:
The Lifestyle Collection - Autumn 2020
Contact us today for a printed or downloadable version.