Lifestyle Collection - Exceptional microclimate providing the good life
November 2019
A Waitaki Valley property blessed with an exceptional microclimate is for sale.
Situated just north of Georgetown at the base of the Awamoko Hill, 29 kilometres inland from Oamaru, the 6.5 hectare property has been in the hands of Helen Brookes and Terry Fowler since March 1992, as Helen explains.
"We were living in Dunedin and Terry wanted to go to the New Zealand Cup in Christchurch in November. We decided to take a few days to make the journey arranging to look at lifestyle properties on the way around Oamaru, Timaru and Ashburton. This was the only one we had a second look at on the way back to Dunedin. At the base
of Awamoko Hill, on the top terrace of three on the south bank of the Waitaki River, we are beautifully situated," she says.
That geographical spot creates a microclimate that, along with Helen's ingenuity, careful nurturing and a PhD she
completed in 1987 at Otago University on Charles Darwin's theories of genetics, has enabled her to grow many plants that do not normally thrive this far south.
"I like to push the boundaries and I like to try to grow things outside their usual geographical area.
"Darwin believed that the geographical distribution of species is mostly limited by competition with like species. Competition is the main factor restricting a species from flourishing, so when placed in an environment with little or no competition, he said a species will flourish. That is what I have done with the orchard, largely proving that
point," she says.
As well as growing apricots, apples, peaches, nectarines, plums, pears, quinces, feijoas, walnuts and hazelnuts, the orchard has also successfully produced citrus for sale, including lemons, oranges, mandarins and grapefruit.
"Even though we are further south than grapefruit will regularly fruit, we have not just grown the standard New Zealand variety of grapefruit, we have actually been more successful growing the Australian Wheeny variety, which you might expect to be more sensitive to the cold, but which has thrived here," says Helen.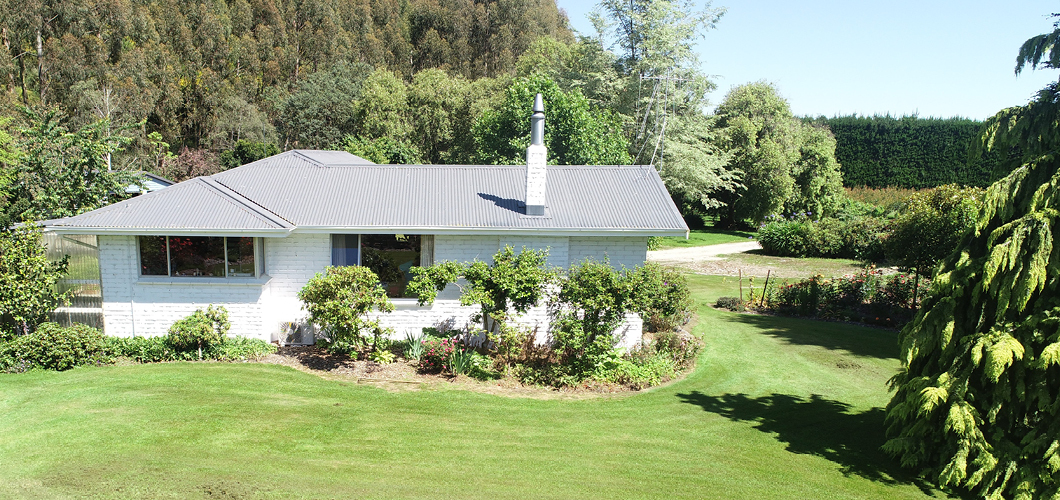 Another horticultural achievement is a peach tree that germinated from a stone left by the property's previous owners, which Helen and Terry found growing in a flower bed soon after they moved in. Its fruit had beautiful yellow flesh and it was not susceptible to leaf curl, despite never being sprayed. They applied for plant variety rights accreditation, named the new variety 'Sweet Perfection,' provided its budwood for propagation to a Nelson commercial nursery and it has been marketed since to home gardeners and organic producers.
Now Helen and Terry have decided to sell, engaging Dave Heffernan of PGG Wrightson Real Estate, Oamaru to market the property, which as well as the orchard includes five paddocks fenced for sheep.
"This is a beautifully presented property, offering a wonderful opportunity to live the good life in a rural setting, generating an income from the expertly developed productive orchard. In addition to the unique microclimate the orchard benefits from a consent to take water from the Awamoko Stream, which flows along the eastern boundary, enhancing the opportunities this property offers and providing trickle irrigation to the trees in the orchard," says Dave.
The property is for sale as a going concern with a listing price of $750,000 including GST.