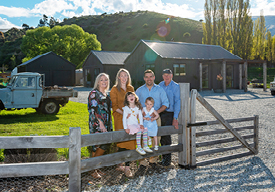 Lifestyle Collection - Honey, views and an eye for design
November 2019
Steph Kerr and Joth Hankinson met in a pub in Arrowtown in 2014.
Steph was creative manager for Queenstown based inbound travel operator Real Journeys, responsible for branding and interior design across the company's vessels, coaches, aircraft and buildings; Joth, or Jonathon, was a beekeeper, originally from Berwick Upon Tweed in the north of England, who had relocated one year earlier to Lowburn, Central Otago.
Five years on and now married, they have two daughters and are responsible for approximately 2.5 million bees. They also have a two-year-old four-bedroom home seven kilometres north of Cromwell, looking out to the rugged grandeur of the Pisa Range, surrounded by lavender fields and vineyards and with a picturesque Central Otago creek
running through it, which they have decided to sell as Steph explains.
"We really enjoyed building this house, and absolutely love living in it, though we have learnt plenty from the experience and are now more confident about a project like this, so have decided to build another house right next door," she says.
Jo Nieper and Neil Bulling of PGG Wrightson Real Estate, Cromwell have come on board to find new owners for the Hankinson's dream home. Jo is confident that plenty will be interested.
"This is a stunning home nestled in the most beautiful and inspiring rural setting. Its stylish designer kitchen and spacious open plan living ensure it is a pleasure for personal enjoyment or for entertaining. It opens up onto a well-appointed courtyard that makes the most of the amazing rural views and surrounding mountains.
"Everything has been done. A new owner will be able to move in, sit back, relax and enjoy the tranquillity of the babbling brook. It really is a slice of paradise," she says.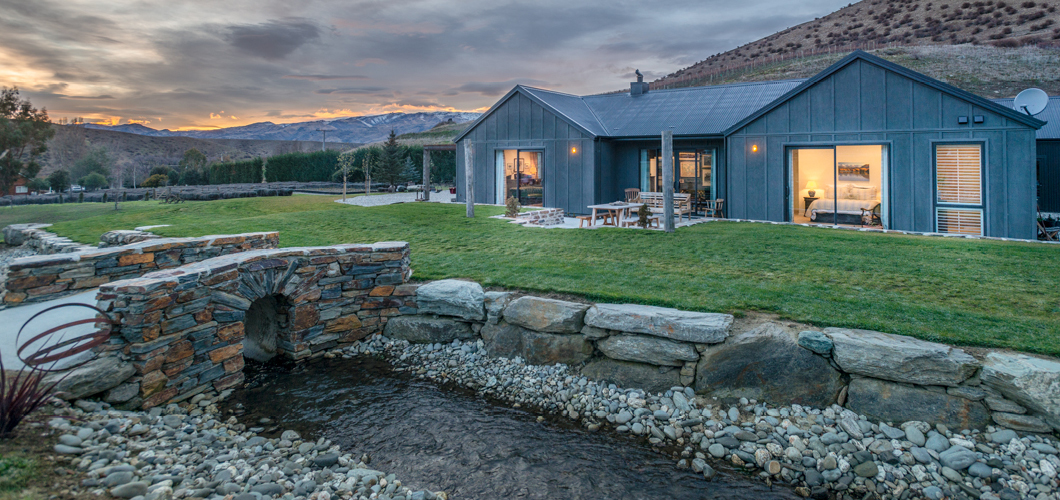 Although Steph is the design professional, it is an equal partnership when the couple make decisions about detail and aesthetics.
"Joth was already living here when we met. It was previously a lavender farm. He collects antiques and has a great eye for design and structure. We laugh because people always assume our décor and furniture comes from my design background, though it is just as likely to be his input or decision.
"Outside, with the landscaping, it is a similar story. We do spend a fair amount of time in the garden, planning and planting. Initially he was known for his scorched earth approach, digging up and taking out everything. After we had built the house though, we realised the property needed softening with trees and plants. That was a transformation for him. Now he can't drive past the nursery without going in. He calls it his lolly shop," says Steph.
Originally from Ashburton, via Queenstown, Steph is now right at home in Lowburn.
"It is a cool wee community; very social. We spend plenty of time catching up with and looking out for our neighbours. Whoever buys this house will find it easy to fit right into that," she says.
Apart from the community, the views and the home, there is one other feature that the property's new owners will buy into: the Hankinsons.
"They will inherit us as neighbours. There is a gate between the adjacent properties, so whoever buys this house from us can choose to padlock it, or not," jokes Steph.
To read more of the Lifestyle Collection magazine by click here.