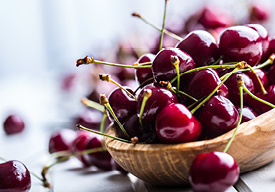 Lifestyle Collection top tip - Ripe cherries ready for Christmas
November 2019
Kate Marshall from Waimea Nurseries shares two sweet cherry varieties that harvest in December, the Dawson and Stella, providing you with a sweet and tasty fruit treat ready for your festive celebrations.
Here's the essentials, giving you an introduction to planting Stella and Dawson cherry tree varieties on your lifestyle block:
Fruit size and colour: Dawson cherry trees produce medium sized fruit with firm red flesh encased in rich black skin. Stella cherry trees grow prolifically and regularly bear large, sweet, dark red fruit.
Harvests: From mid-December ready for Christmas.
Soil type: Prefers well drained soil, rich in potash and lime.
Plant placement: Choose a warm, sunny, dry and sheltered site protected from spring frosts. Plant four to five metres away from other large trees. Cherry trees can be 'espalier' trained against a wall or fence in a fan shape.
Climate: Cherry trees suit a climate with cold winters, dry springs and summers. Both the Dawson and Stella variety require cold winters as they have a 'chill factor'. This means the trees need time spent dormant during the cooler months of the year so a tree is ready to develop flowers and fruit in the spring and summer.
Water requirements: Water well while the cherry tree is young as well as during dry periods and when fruit is developing.
Pests and diseases: Cherries are prone to bacterial canker, silver leaf disease and aphids (affecting both fruiting and flowering cherry trees). Try applying copper in autumn, lime sulphur and oil in winter and repeated copper sprays in spring. Remember to cover your cherries as birds will get to them before you have a chance to pick and enjoy
them yourself!
Pollination: The Stella variety is self-fertile (meaning two trees aren't required for crosspollination) while the Dawson cherry is partially self-fertile. The Dawson will produce more fruit if cross pollinated so plant near a Lapins or Stella cherry tree.
Tree size: Cherry trees can grow up to seven metres tall.
Recommended pruning system: Central leader or vase shape.
To read more of the Lifestyle Collection magazine by click here.
Kate is a manager at Waimea Nurseries, a leading supplier of fruit trees to commercial orchardists and garden retailers nationwide. Born and bred in Nelson, Kate has worked at the nursery for 16 years and is regarded as a fruit tree expert, contributing to NZ Gardener and as a guest speaker at Garden Marlborough and Ellerslie Flower Show.