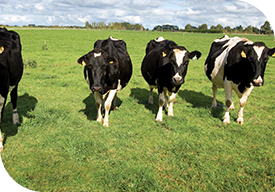 'Normal' summer for livestock markets after slow start
March 2019
Pasture production early in the summer, excellent meat company schedules and dairy returns moving in a positive direction, kept livestock sales strong through the summer.
In the market for sheep and beef, the main focus was on ewe fairs and lamb sales.
Under solid demand, the best ewes sold for more than $300 a head while the bulk of the stock transacted was valued between $250 and $280. Demand was particularly notable for two tooths and AD ewes, as continued confidence in the sheep industry encouraged farmers to replace animals culled last year, and increase flock numbers, endeavouring to address the shortage of good breeding stock.
Sales of store lambs witnessed similarly strong demand, at least until mid-February, when the dry conditions across most of the South Island's east coast dominated farmers' decision making. This should pick up again at the start of autumn when cropping farmers look to bring in lambs to fatten during the coming months. Store lamb prices are ranging from $3.30 to $3.40 per kilogram.
Meanwhile, after a relatively quiet early summer, the dairy livestock market lifted as the new year progressed.
With Global Dairy Trade prices going back into the positive, and a favourable growing season through most of the country, buyers were prompted to start taking action, vendors became more motivated to sell and the market found its level.
Prices for herd sales, contracted for 1 June delivery, generally ranged from $1600 to $1850 per head, with exceptional herds making $2000 or more, while rising two year old in-calf heifers sold between $1450 and $1750 per head.
Demand for autumn calving cows was good. Mostly these changed hands for immediate delivery priced between $1600 and $1800 per head. Trade was brisk and supply became tighter as the summer drew on.
With precious few dairy conversions taking place this season, the dairy livestock market did not receive the consequential lift in demand that occurred in previous years. Following Mycoplasma bovis, while some farmers are repopulating their herds, that is also having little material impact on the market.
Prices and activity for dairy livestock have returned close to the levels they have been in recent years. As in normal years, better quality, realistically priced animals sold first. As the season proceeds, livestock of lower quality comes to market and fewer animals are transacted. On that basis the present positive values will continue through the next part of the season, though will ease off as the quality of the stock dips.
This report was prepared in consultation with PGG Wrightson's Livestock team.
◰ Read more in our Latest Rural Property Pulse publication
◰ Read more in our Latest Property Express publication