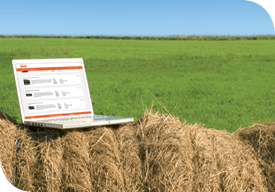 New Rural Online Trading Platform Offers Farmers a 'Virtual Saleyard'
June 2019
bidr®, an innovative online rural trading platform recently launched in New Zealand, has been welcomed by the rural community.
Described as a virtual saleyard, this new rural marketing channel was developed by PGG Wrightson in consultation with their livestock customers.
This real time marketing channel, which to date has specialised in feature sales (including stud bull sales, store lamb and bull sales, along with dispersal sales), has been embraced by farmers and livestock agents around the country due to the strong results achieved.
In the months to come bidr® will continue to extend its product offering, for example, from 1 July regular weekly auctions will commence.
PGG Wrightson General Manager Livestock and bidr® Chair Peter Moore is delighted with the results bidr® has achieved to date.
Peter Moore said, "The development of bidr® has taken place over a number of years as it was important for us to get it right. The input from our agents and customers during the development process provided us with valuable insight. This collaborative approach allowed us to deliver this new channel successfully and we are pleased at how well the wider market has embraced it. The livestock business is constantly changing and bidr® is an example of our focus on innovation and our commitment to future-proof our business to the benefit of our customers.
Some of the key benefits of bidr are:
we have put in place strict protocols and an accreditation process for listing livestock to provide this confidence to all parties involved;
by trading stock online in real-time, it offers farmers much greater flexibility to buy or sell as and when suits them, while opening up a wider audience of buyers and sellers;
due to reduced animal movements (due to less transportation) provides for greater stock welfare benefits relative to other sale channels.
Although initially focused on livestock, bidr® will in the future extend its product offering to enable farmers and agents to bid, buy and sell all things rural online. So there will be more to come soon.
For more information head to www.bidr.co.nz